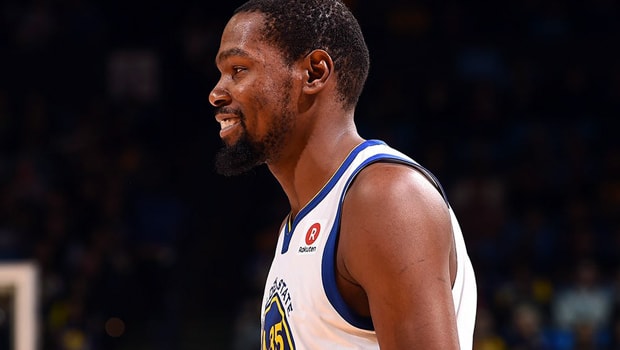 Golden State Warriors small forward Kevin Durant has become the second-youngest player in NBA history to reach 20,000 career points.
Durant reached the tally during the Warriors 125-106 defeat to the Los Angeles Clippers on Wednesday and at 29 years and 104 days of age he becomes the second youngest player, after LeBron James, to reach the prestigious milestone.
The Washington D.C. native is also just the fifth player to reach the tally before the age of 30, while he is the 44th player in NBA history to surpass 20,000 points.
The former Oklahoma City Thunder ace was understandably delighted to have reached the tally at such a relatively early stage in his career and he admits he never dreamed of matching the achievements of some of the greats of the sport.
Speaking to ESPN, Durant said: "Man, that's some great company, and there's so many names I never thought I'd be in the same conversation with.
But to know – to have it in numbers, in black and white – to know that you belong in that group is pretty special to me."
Durant insists it was never a target of his to reach 20,000 points, as his main focus has always been on team glory, but he is certainly not underestimating the magnitude of the achievement.
"I'm telling you, man, it's never been a goal of mine to count how many points I have. That's not why I play the game," he added.
"To be under 30 and do it, that's special to me too." Durant will now be looking to add to his points tally in the Warriors next match, a clash with the Milwaukee Bucks at the Bradley Center on Friday.
Steve Kerr's team are currently top of the Western Conference standings and they are priced at 1.36 to claim that title come the end of the campaign.
Leave a comment