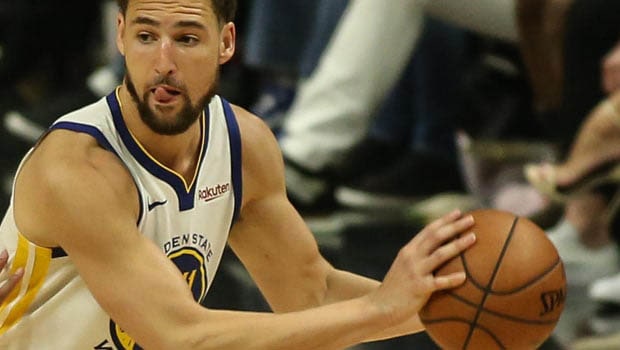 Golden State Warriors head coach Steve Kerr heaped praise on Klay Thompson after his player's fantastic performance against Los Angeles Lakers. GSW continued their rich form as they won against LA Lakers by 117-115 on Saturday to extend their record to 42-15.
Klay Thompson, who has made a comeback to the game after a long time of 941 days, had the best season performance as he scored 33 points. In fact, 16 of Thompson's 33 points came in the fourth quarter of play. Thompson shot 12 of 22 and made four 3s, three in the fourth quarter.
"Just took over the game at a time when we desperately needed him," Warriors coach Steve Kerr said. "With our offense kind of struggling to find a groove he got hot and took over the game. Klay is special. It goes beyond making shots. He brings electricity to the building that's hard to quantify."
On the other hand, Klay Thompson was delighted with his own individual performance and was happy to come up with a match-winning show in front of his dad.
"It meant something special to do it for my dad," Thompson said. "I don't think he's seen me play for a few years. I know he was proud of me, and that's always fun."
Meanwhile, LeBron James scored 26 points, 15 rebounds, and eight assists and once again came up with a fine performance for the LA Lakers. In fact, at one stage Lakers were leading by six points but could not hang on to the advantage.
"This one hurts," Lakers coach Frank Vogel said. "We were up six with a few minutes to play. Just one of those nights where a lot of bad bounces didn't go our way."
James also admitted that they had a chance to win the game but they could not keep their nerves in the fag end of the game.
"We had an opportunity to win a big game tonight," James said. "But in all my career, any time I've been linked with some of the greats, I've always just been in awe."
Leave a comment