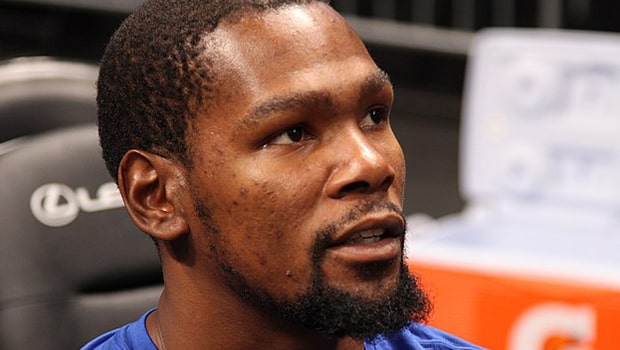 Golden State Warriors general manager Bob Myers is confident Kevin Durant will commit his future to the team for next season.
The small forward originally joined the Warriors from Oklahoma City Thunder in 2016 and he has gone on to win two NBA titles with Steve Kerr's team.
However, recent speculation has suggested that the 30-year-old is seeking a new challenge elsewhere and he could, therefore, leave the Oracle Arena during the off-season.
That has led to some concerns amongst Warriors supporters, but Myers has now revealed that he expects Durant and all his star players to remain with the team for next season.
"I feel like all our players are happy and want to stay with us and continue with us," said Myers when asked about Durant's future.
"I feel like we've got a great environment. I get it that people want to know the answers to these questions, but what I would re-convey is it's hard to win a basketball game in the NBA. It's hard to win a playoff game. It's hard to win a championship.
"That has to be our focus, and I think that is our focus."
Kerr is also confident that Durant, as well as Stephen Curry, Klay Thompson, Draymond Green and DeMarcus Cousins, will be going no where and he is expecting Thursday's trade deadline to pass without incident.
"I don't sense we're in a position this year where anybody is worried. Nor should they," said Kerr.
"I think the sense of it here is that's everybody else's problem."
Golden State are currently second in the Western Conference standings and they look well placed to mount a serious challenge to win that prize for the fifth successive season.
Leave a comment