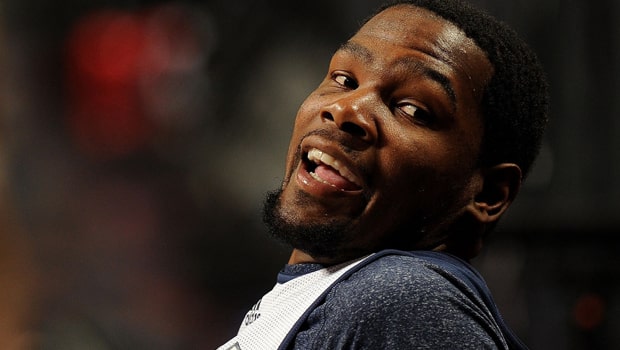 Golden State Warriors star Kevin Durant says the Toronto Raptors are real Championship contenders this season.
The Raptors raided the Oracle Arena on Wednesday night with a 113-93 victory over GSW, despite being without star man Kawhi Leonard.
Toronto finished with the best record in the East last season but were dumped out by Cleveland Cavaliers in the play-offs.
The Raptors' postseason record has been poor in recent years, but Durant feels Toronto have the look of champions already after a blistering start to the campaign.
"They have champions over there," Durant said in the post-game press conference, as reported by ESPN.
"Danny [Green] and Kawhi [Leonard]. They also have guys like Serge [Ibaka] and Kyle [Lowry] and Jonas [Valanciunas]. They got a great mix of veteran and young players.
They got a new coach [Nick Nurse], but the leaders of that team have been through some wars."
Toronto now have two consecutive wins over the Warriors having claimed an overtime victory at the Scotiabank Arena at the end of last month.
Golden State may well find themselves up against the Raptors in the Finals Series as they bid for an historic three-peat, and Durant says the Eastern Conference leaders will be a match for any team in the NBA.
He added: "I wouldn't call them a young team or say them beating us two times is going to give them extra confidence.
"They've been ballin' before that, and they're going to be ballin' after they beat us. So they're not an up-and-coming team. They're here."
On Thursday night, the Los Angeles Lakers head to Houston and are 2.88 to claim the win, while the Rockets can be backed at 1.44.
Leave a comment