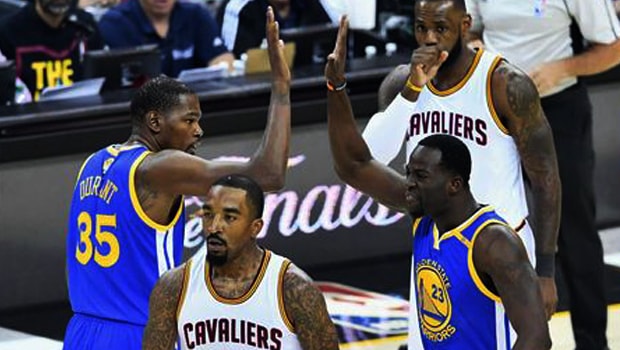 The Golden State Warriors are one win away from becoming the first team to go through the NBA Finals unbeaten after defeating Cleveland 118-113 in Game 3.
The Warriors have already become the first team from the United States' four major professional sports leagues – the NFL, NBA, MLB and NHL – to win 15 successive post-season games.
Now they are just one win short of going through the entire post-season unbeaten.
Kevin Durant scored 31 points for the Warriors, who came from behind after Cleveland led by six points with three minutes to play but Durant led an impressive 11-0 run to secure the win.
No team has come from 3-0 down to win an NBA play-off series in 126 attempts.
The Warriors will bid on Friday to become just the ninth team to record an NBA Finals series whitewash and the first since the San Antonio Spurs, also against Cleveland, in the 2006/07 season.
Cleveland came from 3-1 down in last year's finals to overcome the Warriors 93-89 in the deciding Game 7 but their star-man LeBron James admits that the Cavaliers are now facing close to mission impossible.
James suggests Cleveland will need the perfect game on Friday, just to avoid the dreaded sweep and stop Golden State from creating another slice of history.
"Even when you're playing well, you got to play like A plus plus, because they're going to make runs and they're going to make shots and they have guys that are going to make plays," he said.
"We made enough plays tonight to win the ball game, but they made a couple more." Cleveland are 21.00 to win the NBA Finals.

Leave a comment