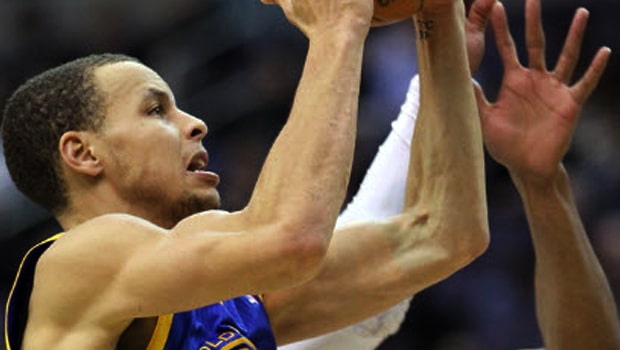 A dislocated finger could not stop Steph Curry from helping the Golden State Warriors secure a 2-0 series lead over Houston Rockets in their Western Conference semi-final.
The Warriors claimed a 115-109 victory in Game 2 at the Oracle Arena on Tuesday night, with point guard Curry contributing 20 points despite dislocating the middle finger on his left hand early in the contest.
Curry sustained the injury while attempting to swipe the ball away from Rockets center Clint Capela, but instead of regaining possession, he suffered a potentially game-ending injury.
However, x-rays revealed that no break was sustained, which meant Curry could return to the court with his fingers taped together and he was able to help the Warriors establish their 2-0 lead in the best-of-seven series.
The two teams will now head to Houston for Games 3 and 4 and Curry is confident he will be able to play a full part despite the injury. "It hurts, but it'll be alright. I didn't break anything," Curry told reporters.
"I am fortunate and some higher powers were looking out for me on that one, but hopefully before Saturday that goes away and I'll be fine.
"I was able to play. It's different when I've never had a dislocated finger like that before and they pop it back in and you're just dealing with pain, but I wasn't thinking about it out there."
Houston also suffered an injury scare when 2018 MVP James Harden suffered a scratched left eye shortly after Curry returned to the court.
Harden was also able to play on, but at times he was clearly in discomfort and he told reporters after the match that he was unsure whether it will have fully healed ahead of Game 3 on Saturday.
"It's pretty blurry right now," Harden said. "Hopefully it gets better day by day."
Leave a comment