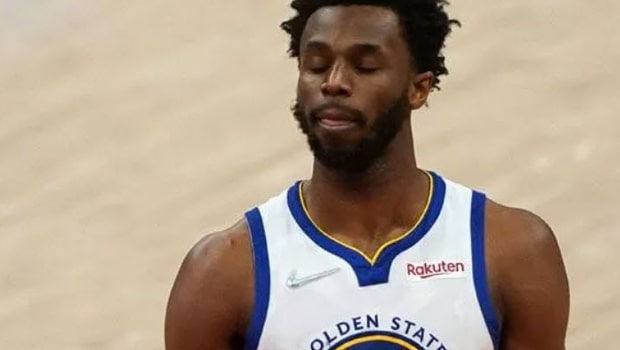 When the Golden State Warriors decided to add Andrew Wiggins to their roster a lot of fans and experts were not sure if that was a good move for the Dubs. There were questions regarding his ability to adapt to the Warriors as he is someone who had a reputation of hogging the ball during his time at Minnesota so people had their doubts. But he completely changed his game to fit right in with the warriors as defense became his best suit.
While the Warriors had players like Stephen Curry, Klay Thomspn on the attack, Wiggins wanted to be solid on the other end of the court and he did that with aplomb in the NBA Finals as he held off one of the best players in the league in Jayson Tatum. It was the first finals for Tatum who is still a youngster so that did work in Wiggins' favour but the former Timberwolves man was top notch in every possession against the Celtics superstar. He did not allow him any space to work with and it resulted in some tough contested shots from distance and turnovers on a large scale which did cost Celtics the game.
Wiggins was selected for All Star last season for his exploits with the Warriors. He averaged 16.5 points, 7.5 rebounds and 1.8 assists. During his visit to the Vince Carter Show, Wiggins opened up on why he wanted to transform into this defensive role and how he managed to pull it off. He shared how the team was offensively overloaded and wanted to be the defensive anchor who can also do the scoring but primarily a player who can defend the best players of the opposition and keep them under check.
"I can play defense, you know, so I took that seriously. It didn't matter who they put me on, whether it was Ja (Morant), Luka (Doncic), (Jayson) Tatum … It didn't matter. My mindset was the same," said the No.1 pick from 2014.
He then opened up on how Stephen Curry is enough on  the offensive end for any team to roll with his charisma and skills. "our team is talented, you know. Everyone's going to get a lot of touches. Obviously, we got Steph. … We got a lot of stuff going on offensively, but defensively is somewhere where I thought I could put my stamp on."
This move proved to be a major success for Wiggins who has now won his maiden NBA Championship with the Warriors and will be eager to defend this title as we head onto another new season.
Leave a comment