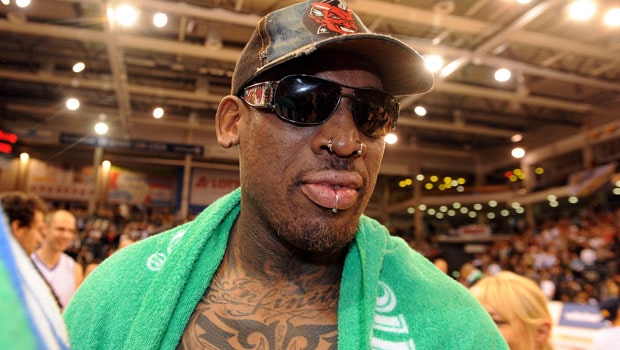 Dennis Rodman dated Madonna and Carmen Electra and apparently, he also slept with multiple women on the United Center floor, including Bulls cheerleaders. I'd be surprised if they said that he didn't.
The Pistons drafted him with the 27th overall pick in the 1986 NBA Draft out of Southeastern Oklahoma State University. A five-time NBA champion, Rodman was a key part of the Bad Boys Pistons team that won two NBA Championships and years later he joined Jordan and Pippen in the Bulls to form perhaps the most formidable Big Three in NBA history. The trio won three NBA Championships in three years. After two tough years with the Spurs, Rodman was traded to the Bulls in October of 1995. Many thought that Rodman would not mesh well with Jordan and Pippen but they were wrong.
Rodman was a huge ladies man. He dated Madonna and Carmen Electra but some fans ignore he used to sleep with girls on the United Center floor. It is believed that he also had sex with a few Bulls cheerleaders. Funnily enough, the United Center security didn't stop Rodman from using the court to sleep with the cheerleaders… all part of the perks of being Rodman.
Dennis Rodman's rebounding and defensive skills proved invaluable to the Bulls. Many consider Rodman the greatest rebounder of all-time. He played two more seasons in the NBA after winning his third championship in three years with the Bulls and in recent years, he received a lot of media attention because of his friendship with North Korean leader Kim Jong-Un.
Leave a comment