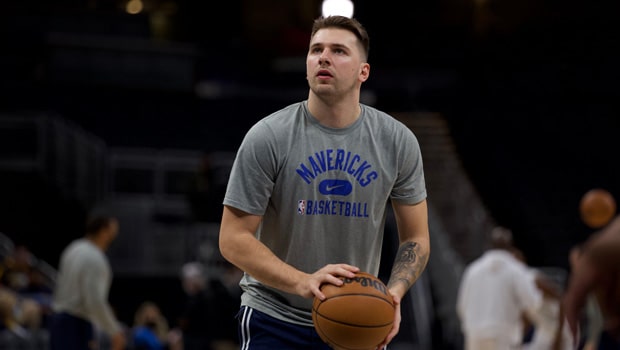 Dallas Mavericks star Luka Doncic took part in a full practice session on Wednesday before their third game of the first-round playoffs against Utah Jazz. Doncic did a practice session since straining his left calf and his presence is definitely going to add strength to his team, if he is given a green signal to play.
Mavericks had confirmed that Doncic was doubtful for the first two games after he suffered an injury. Without Doncic, who is Mavericks' best player, the team lost the opener by 99-93. However, they bounced back stronger to take the second game by 110-104.
The Slovenian had suffered the injury while playing against San Antonio Spurs on April 10 after he top-scored with 26 points in his team's 130-120 win.
Doncic added that he doesn't want to rush anything and would want to play only if he can play without worrying about his minutes on the court.
"We shouldn't rush anything, but step by step, I think I'm doing a lot," Doncic said. "I'm getting ready."
"If there's going to be a risk, I don't think I'm going to play," Doncic said. "But as I say, yesterday and today we did some good things. If it's not risky, I don't want to play for limited minutes because I'll be nervous. I want to be out there the most time possible, but as I say, I'm going to see how I feel and we're going to talk to the medical staff. "I don't know if I'm going to be 100 percent. I think that's tough right now. But if I'm ready and there's no risk of [aggravating the] injury, I'll be out there."
Even though Doncic has missed only two matches, he said he is already missing the game very much.
"Playoff basketball is so fun, especially playing at home with the crowd," Doncic said. "Sitting out, watching the game, it's way more stressful than playing the game. I don't know how, but it is. I just miss basketball. I know it's only been two games, but I miss it so much."
Leave a comment