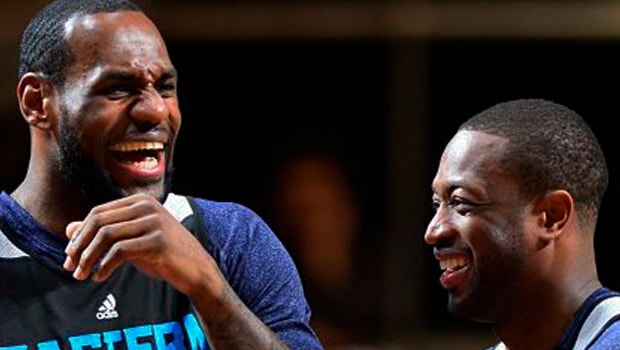 LeBron James believes honesty is the key to his relationship with Dwyane Wade following his great friend's switch to the Cleveland Cavaliers.
The pair famously lit up the NBA during their time together at Miami, guiding the Heat to four straight Finals, securing the Championship on two of those occasions.
James moved back to the Cavs in 2014 and has now been followed to the Quicken Loans Arena by Wade, after a year with Chicago.
The pair are known for their off-court friendship and just like they did in Florida, will now be looking to repeat that chemistry in Ohio.
Having won the title in 2016, Cleveland fell short to Golden State last season but appear to have strengthened well, despite losing Kyrie Irving to the Celtics.
Wade is likely to take Irving's role as James' right-hand man and the pair will be key to the Cavs' Championship hopes.
Tyronn Lue's side are 5.50 to reclaim the title, with the Warriors 1.53.
James admits he is excited to be reunited with his old friend and believes the openness of their relationship will only benefit their chances of success.
"I think it's just the whole honesty thing," James said. "When you can be honest with somebody no matter what's going on and your games translate, it works very easily.
"We get on each other. We've always been like that especially four years that we played with one another and even before that when just used to text.
"I watched his games and told him things he could've done better and vice versa. It's just a brotherhood that we have."
Leave a comment