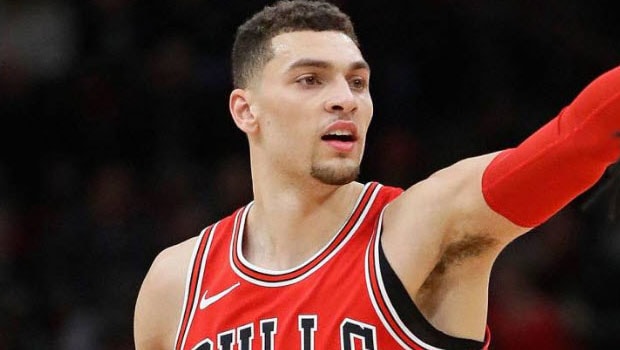 Chicago Bulls star guard Zach LaVine picked himself, Michael Jordan, Scottie Pippen, Derrick Rose and Pau Gasol in his all-time Bulls starting five.
LaVine was asked to name the lineup during an interview with Marc J. Spears of The Undefeated. He went with Derrick Rose at point guard, himself at shooting guard, Michael Jordan and Scottie Pippen as forwards and Pau Gasol at center.
Rose averaged 19.7 points and 6.2 assists in 406 games over seven seasons with the Bulls and he is in the top 10 in franchise history in both points and assists. He is also the youngest NBA MVP in league history.
Derrick Rose won the award at the age of 22 during the 2010-11 season after averaging 25.0 points, 7.7 assists and 4.1 rebounds in 37.4 minutes over 81 games.
LaVine played like an All-Star all season long. The two-time NBA Slam Dunk Contest champion was having a career year, averaging 25.5 points, 4.8 rebounds and 4.2 assists while shooting 45.0 percent from the field and 38.0 percent from 3-point range in 34.8 minutes over 60 games.
Jordan is the greatest of all-time, leading the Bulls to six NBA Championships. MJ averaged 31.5 points, 6.3 rebounds and 5.4 assists in 930 games over 13 seasons with the Bulls. Pippen was the perfect sidekick to Jordan, averaging 17.7 points, 6.7 rebounds, 5.3 assists and 2.1 steals in 856 games over 12 seasons with the Bulls. Jordan and Pippen rank first and second respectively in Bulls franchise history in games played, minutes played, field goals and points.
Pau Gasol played 150 games for the Bulls over two seasons and averaged 17.6 points, 11.4 rebounds and 3.4 assists while making two All-Star teams. LaVine should have taken Dennis Rodman over Gasol but I can understand that his lineup would have lacked size.
Leave a comment