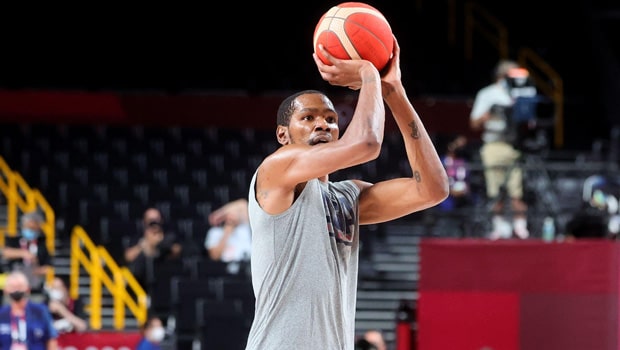 NBA veteran Kevin Durant continued his good form in the ongoing season as he came up with a dominating performance against Atlanta Hawks. Durant's magnificent performance of 32 points helped Brooklyn Nets beat Atlanta Hawks by 117-108 on Wednesday.
This was Nets' third successive win in the ongoing season as they have improved their regular-season record to 5-3. Furthermore, Durant scored seven rebounds whereas James Harden provided 11 assists.
It was a fine performance from Durant as he made great use of his experience to help his team to an emphatic win. The 33-year old stated that he was aggressive in his approach as he had the opportunity on the floor and made the most of it.
Kevin Durant said after the win, "I just felt like the lane was open. I felt like I can get to wherever I wanted on the floor. This is about me knocking down shots. I was aggressive all night, I felt. My teammates were looking for me. I think I did a solid job of playing with the ball in my hands and without it. I could be a little better without the ball – cutting, moving off the screens, little faster – but I think I did a solid job tonight. I just try to take what the defense gave me."
On the other hand, Kevin Durant is happy with the team's chemistry as the team players are coordinating among themselves. The likes of James Harden, Blake Griffin, and LaMarcus Aldridge are doing a fine job for the team.
"I just think we needed some experience, just seeing what lineups work with what players, what sets work with each lineup. I think that's what it really is. You need to play games to understand that. We knew it was going to be a process for us. I'm glad we were able to figure some stuff out in the last few games and get back on the right page. We know it's going to be even tougher on the road. But we just got to keep grinding. I keep saying the same thing – regular season is all about preparing you for the playoffs, so we got to keep putting in time and hours."
Brooklyn Nets will look to continue their good form in the upcoming matches. The Nets will next face Detroit Pistons on Friday.
Leave a comment