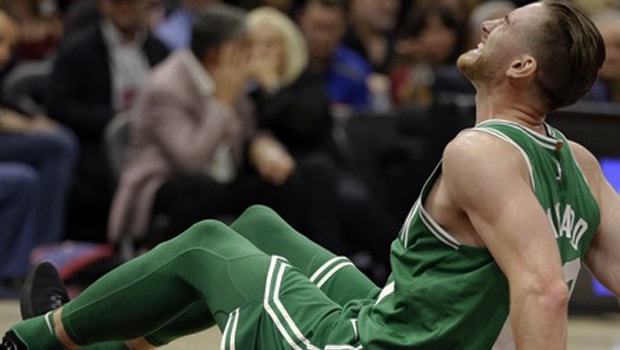 Rookie Jayson Tatum is expected to be handed more opportunities for Boston Celtics this season due to the potential season-ending injury picked up by recent signing Gordon Hayward.
Hayward joined the Celtics from Utah Jazz in July in a deal worth £97million but his campaign already looks to be over after he suffered a horrible ankle injury in his debut against Cleveland Cavaliers.
The American collided with LeBron James in mid-air in the first quarter of the NBA season opener and landed awkwardly, with his left ankle turning at an angle to the dismay of the players and everyone around the court.
Speaking after the game, Celtics head coach Brad Stevens said: "Hopefully we get a full recovery and it's a tough deal but I guess that's part of it, the risk of injury. I really feel for him."
Hayward was part of a new-look attack for Boston this year, having also signed Kyrie Irving from Cleveland, but the duo will not be seen on the same court for some time.
Losing the major new signing means Tatum, who was the third overall pick for the Celtics in the NBA draft, is expected to see more playing time than he may have expected.
The 19-year-old attended Chaminade, where he rated as a five-star recruit and was regarded as one of the top players in the Class of 2016 by most recruiting services.
Boston, who ended up losing 102-99 to the Cavaliers, returned to action on Thursday as they played host to the Milwaukee Bucks but it was the visitors who picked up a 108-100 victory.
Leave a comment