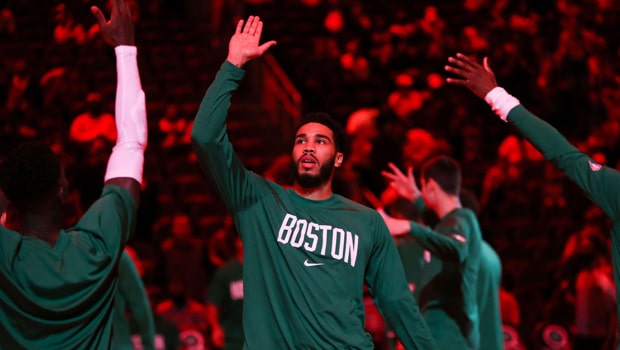 Boston Celtics star forward Jayson Tatum honored his late mentor Kobe Bryant before Game 7 of the Eastern Conference Finals against the Miami Heat on Sunday night. Tatum led the Celtics to a spot in the 2022 NBA Finals after a 100-96 road win in Game 7.
Tatum arrived to the game sporting a purple and gold sweatband with number 24 on his arm to honor the late Kobe Bryant, his friend and mentor. A screenshot on Tatum's Instagram on Sunday night revealed that he sent a text message to Kobe's former number just hours before Game 7
"I got you today," Tatum wrote to Kobe. The screenshot was the last image of 10 in his Instagram post. Tatum and Kobe first met when the Celtics superstar was still a kid with a big dream and a huge fan. After his rookie year, Tatum trained with Kobe during the offseason and formed a close bond.
Jayson Tatum has credited Bryant as "the reason I started to play this game, the reason I fell in love with this game." According to Tatum, Kobe once told him, "I didn't have a plan B I put all my eggs in one basket and I knew I was going to make it happen."
On Sunday, Tatum became the first recipient of the Larry Bird Eastern Conference Finals MVP trophy.
Kobe Bryant is possibly one of the greatest NBA players of all-time and the greatest Laker ever. Two jersey numbers in the rafters at the STAPLES Center prove it. Kobe was able to take over games in ways that not many players could.
His drive to win at any cost helped him succeed on and off the court. An 18-time NBA All-Star, five-time NBA champion and one-time NBA MVP, Kobe tragically passed away on January 26, 2020. Kobe's game was influenced by Michael Jordan, he never denied it. He averaged 25.0 points, 5.2 rebounds and 4.7 assists in 1,346 career games with the Lakers
Kobe worked like he had no talent, then he played like he believed he was the best player in the world. Prepare with humility; perform with confidence, that's one of the many lessons he taught us.
Leave a comment