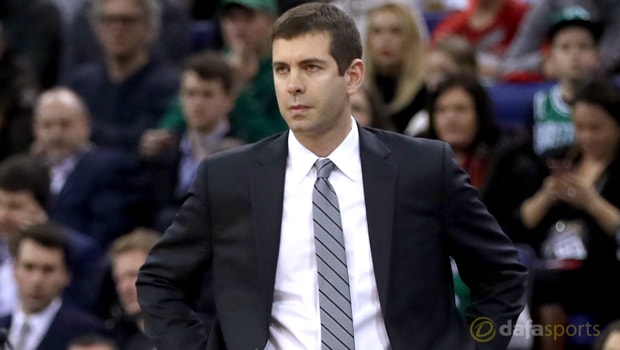 Boston Celtics head coach Brad Stevens says Jaylen Brown's injury is "not terrible" although he insists it is crucial the shooting guard is not rushed back too soon.
The Celtics are currently 1-0 up against the Philadelphia 76ers in their best-of-seven Conference semi-final after racking up a convincing 117-101 victory on Monday night at TD Garden.
Boston will be hoping to double their advantage when the second match takes place at the same venue on Thursday.
Stevens' men are the marginal outsiders at 2.40 to win while their opponents are 1.57 favourites.
Doubts still remain about the fitness of Brown going into the contest as he continues to struggle with a hamstring injury, leaving the head coach with a potential selection dilemma.
The 21-year-old, who was drafted by the Celtics in 2016, has been in impressive form this season and his absence from Game Two in Massachusetts would be a huge blow.
He has a post-season three-point percentage of 37.8 percent, averages 17.9 points per game and picks up 4.7 rebounds a game, highlighting his significance to the team.
Speaking about Brown's injury, Stevens says it is not that bad although he is cautious about rushing the guard back into competitive too early.
"The bottom line with this hamstring injury, it's not terrible," he was quoted as saying by the Boston Herald.
"It's not a long-term thing. It shouldn't linger if he comes back at the right time.
"But you can make it worse if you don't come back at the right time, if you have to guard J.J. Reddick and Marco Belinelli. And he's going to have to do that."
Leave a comment