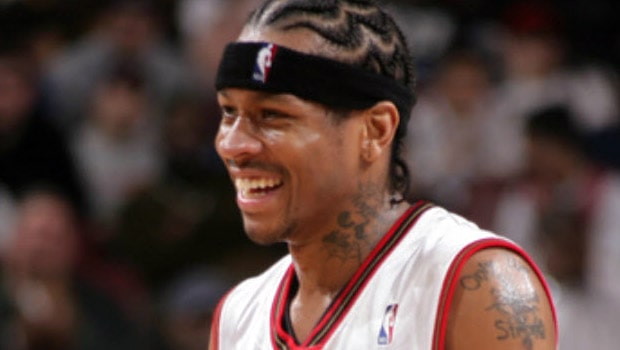 Allen Iverson and Kobe Bryant had many unforgettable battles over the years. Like Kobe, AI willed his teams to victory often. On August 24 (8/24), Kobe Bryant Day, Iverson shared a letter he dedicated to his friend on The Players' Tribune, here's part of it:
"Remember when I came out to L.A. for the first time our rookie year? You picked me up at the hotel and we went out for some food, and you asked me what I was getting up to later.
I said I was going to the club. I mean, we in L.A.! I'm going to the club, Kobe. Come on, man.
And what did you say? 
"I'm going back to the gym.""
Iverson on Kobe's mindset and how he brought the best out of him:
"Everybody needs that person to say, Oh, you're the sh*t, huh? Well I'm the sh*t, too. 
Greatness needs company, and we needed each other. Mike needed Prince like Prince needed Mike. 
And boy, you were the sh*t. You were the toughest man that I've ever seen in this game. The most cold-blooded serial killer I've ever seen. The fiercest competitor I've ever seen. I remember hearing the story that you were on the road, and you were watching the highlights of me dropping 35 on the Knicks at the Garden our rookie year, and you got so mad that you smashed up the hotel room and you started researching me like you were in the CIA. "GET ME THE FILE ON A.I." — I bet it was like that. Studying how great white sharks hunt down seals in the Pacific Ocean and whatnot.
What I love about that story is, it's the truth. That was just our relationship. Two dudes pushing each other to greatness. The next time you came through Philly, you were ALL up in my sh*t. There was no half-stepping you. Every first step, I had to go 100. You're 6′ 6″, and it was like you wanted to guard me. You wanted the challenge. You wanted to show me that you were the baddest motherf***er to ever play the game. 
And I didn't want ANY part of Kobe Bryant on the other end!!!!! 
Man, hell no!!!!!!"
"The Answer" also wrote that Michael Jordan is the G.O.A.T. (The Greatest of All-Time) but he explained that Kobe Bryant will always be his Number 2. Iverson also said that no one was tougher than Kobe and that no one got more out of him than the Lakers legend.
A Lesson From Kobe
"The agony of defeat is as low as the joy of winning is high. However, they're the exact same to me. I'm at the gym at the same time after losing 50 games as I am after winning a championship. It doesn't change for me." — Kobe Bryant
"I'll do whatever it takes to win games, whether it's sitting on a bench waving a towel, handing a cup of water to a teammate, or hitting the game-winning shot." — Kobe Bryant
Leave a comment