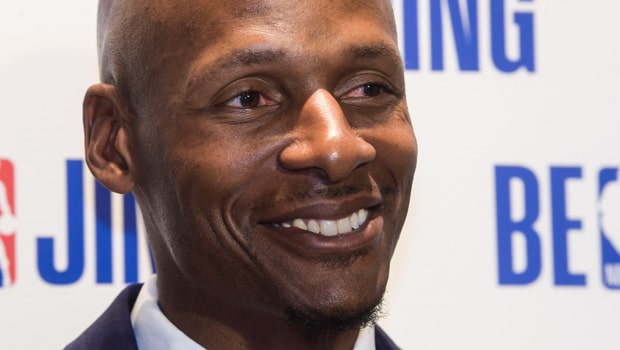 Ray Allen played 18 years in the NBA with the Bucks, SuperSonics, Celtics and Heat, averaging 18.9 points, 4.1 rebounds and 3.4 assists in 35.6 minutes over 1,300 games. Allen shot 45.2 percent from the field and 40.0 percent from 3-point range in his career. As someone who has played with LeBron and competed against MJ, Allen explained if James caught Jordan as the GOAT:
"I never thought it was about a game of cat and mouse or tag. Michael Jordan, he propped up this league, and he allowed it to grow. He had such an impact on [the NBA] and other sports leagues, not only in this country but around the world, where he made it very popular for corporations to bring on athletes as endorsers to grow their product. It didn't happen before Michael Jordan. Michael Jordan made it acceptable across the spectrum. So the things that he's done, we are forever indebted to him, similar to Tiger Woods in golf. 
Michael Jordan played a different game than LeBron does, he played in a different era. Statistics never equate when you compare across eras because the game is so totally different today than it was back in the '90s," Ray Allen explained.
"In my opinion, MJ is the GOAT. LeBron is a product of MJ, so a lot of what's in LeBron — in his DNA — comes from Michael. For anybody that says that LeBron is the GOAT, they're growing up in today's era, and they believe what they believe based on how it feels and what he means to them, and that's OK. But the way MJ affected the game, man, he had a stranglehold on the league and he struck fear in everyone because he was an unstoppable player," Allen concluded.
Appearing on Scoop B Radio with Brandon 'Scoop B' Robinson, Allen recently said: "LeBron is a power. He's a mismatch. MJ is more like grace and finesse. The comparison is really unfair to both."
Widely seen as the best basketball player of all-time, Michael Jordan played 15 seasons in the NBA with the Bulls and Wizards, winning six NBA championships and achieving other numerous accolades.
Jordan retired for three seasons before coming back to the league in 2001 as a member of the Wizards for two years. He is the current owner of the Hornets and a member of the Basketball Hall of Fame.
Leave a comment