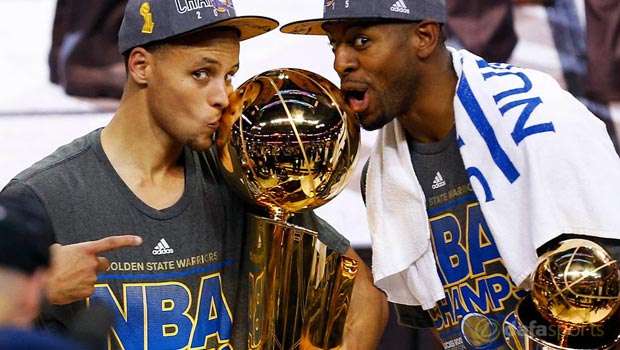 Golden State Warriors point guard Stephen Curry admitted he was feeling emotional after helping his team to claim a first NBA title in 40 years on Tuesday night.
The Warriors took the best-of-seven series by four games to two to bring home their fourth crown, but first since 1975.
The Californian outfit powered to a 105-97 victory against the Cleveland Cavaliers in Ohio and Curry admitted it will live long in the memory.
Curry said: "World champions.
"This is something special. This is a special group. From the start of the season this is what we envisioned. We're going to remember this for a long time."
Curry, who won the NBA regular season Most Valuable Player and the NBA Finals Most Valuable Player, scored 25 points along with team mate Andre Iguodala.
The 27-year-old hailed a 'special group' of players and insists he is delighted to have claimed the title, something his father failed to do.
Dell, his father and former NBA standout, never claimed the crown, although Curry has joined good company in Magic Johnson and Bob Cousy as the only point guards to win the regular-season NBA MVP award, and capture the league title in the same season.
When asked about his father Curry added: "He played 16 years and never got the chance to enjoy this," Curry said. "He can enjoy this through me and the whole team. Unimaginable feeling."
Iguodala, who spent 758 games as before being restricted to a reserve role this term, only became a starter for the Golden State in the final three games.
The 31-year-old's inclusion produced a faster approach, which proved too much for the Cavaliers to defend against.
Iguodala said: "This is awesome.
"This is what we talked about, staying strong, staying with it. They kept fighting. This is unreal."
Leave a comment