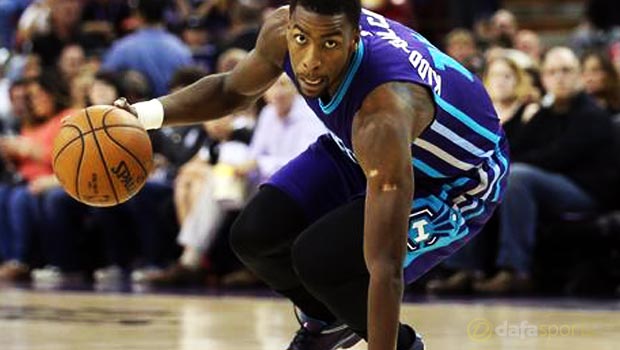 The Charlotte Hornets' pre-season plans took a heavy blow on Saturday as Michael Kidd-Gilchrist dislocated his right shoulder in their exhibition opener against the Orlando Magic.
The injury left Kidd-Gilchrist in an Orlando hospital overnight and casts doubt over his ability to be ready in time for the Hornets' NBA regular season opener on October 28 in Miami.
Kidd-Gilchrist was curling off a screen late in the second quarter when he tumbled to the ground after absorbing a foul by a Magic player. He stayed down for several seconds and got up holding his shoulder.
He was immediately helped to the locker room before leaving the arena for hospital.
The setback will come as a big blow for Kidd-Gilchrist was had signed a $52 million dollar, four-year contract extension during the off season having suffered injuries in 2014-15 that restricted him to just 55 games as the Hornets missed out on the playoffs.
He averaged a career-high 10.9 points, 7.6 rebounds and 1.4 assists per game last season, despite his injury troubles.
Coach Steve Clifford said the injury put a damper on an otherwise productive pre-season opener for the new-look Hornets.
Clifford would have been hoping to continue bedding in newcomers Nicolas Batum (traded from Portland), Frank Kaminsky (drafted) and Jeremy Lin (signed as a free agent) alongside Kidd-Gilchrist.
The new pairing of Kidd-Gilchrist and Batum is especially critical for the Hornets. The pair are projected to give Charlotte a strong pair of perimeter defenders going into the 2015-16 campaign.
A member of Kentucky's 2011-12 national championship team, Kidd-Gilchrist is scheduled to undergo further evaluation by the team's medical staff in Charlotte, North Carolina, on Monday according to the team's Twitter account.
The Hornets are 201.00 to win the NBA Championship this season with the San Antonio Spurs 4.75 and the Chicago Bulls 15.00.
Leave a comment