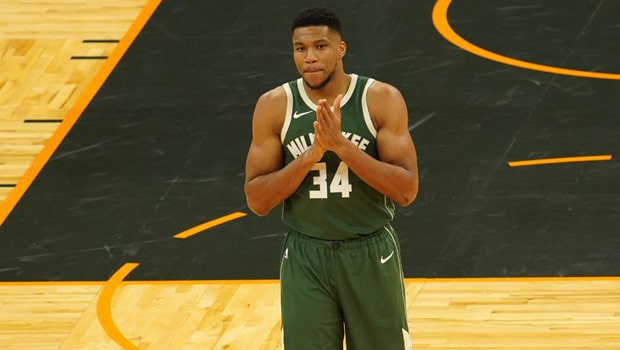 Giannis Antetokounmpo is on a mission to retain the NBA Championship for the Milwaukee Bucks. Although it will be a huge challenge but the Greek Freak is known to take up challenges all through his career. The current NBA season are filled with adversities with multiple teams contending for the NBA Championship.
One of the top contenders of this season has to be LeBron James' led Los Angeles Lakers. A lot of people feel that Giannis has a touch of LeBron in the way he leads the Bucks. The Greek forward has looked up to Lebron for many years and they share a great respect for each other's talent. In a recent interaction, the 26-year-old Bucks talisman shared a small fanboy moment with LeBron James.
Antetokounmpo had a terrific season with the Bucks as he dominated each team on their way to the NBA crown. The Greek Freak made everyone believe that they can win the title for the Bucks and hence they finally managed to get their hands on the elusive title last season. His leadership and his ability to raise the level of everyone else around him make people draw comparisons with Lakers legend LeBron James.
Even at the age of 36 the Akron Hammer continues to break records and has won titles everywhere he has gone. However, he is currently nursing an injury and will be looking to get back on the court for the Lakers this season. Giannis Antetokounmpo will be looking to follow the footsteps of his idol and get a similar career graph as he looks to pave his own legacy just like Bron.
Giannis is definitely one of the best in the NBA currently but he is still very young and has his best years ahead of him. However, before coming to the NBA he had jerseys of several legendary basketball players. While most of them were legends of the game who featured way before him, LeBron James was one of the players with whom he has had the opportunity to share the court. Therefore he cherishes LeBron James' signed jersey.
In his recent interaction with GQ, the Greek Freak rolled back the years when LeBron handed him a personal autographed Lakers' jersey. He told the interviewer, "LeBron James man. Look! Look what he wrote for me." Giannis then proceeded to read out what the 17-time All-star wrote on his jersey. "To Giannis, aka the Greek Freak. Continue to strive for greatness every single day you wake up, brother. Love everything you represent to this game of hoops, and off the court as well. The limit is not the sky. Go beyond it." He went on to claim, "That's big time, you know?"
Giannis Antetokounmpo idolises LeBron James and his fanboy moments with the Lakers legend is nothing surprising. The Akron Hammer is a legend of the sport and has been at this level for years now. Hence many players idolise him and take motivation from him.
Leave a comment