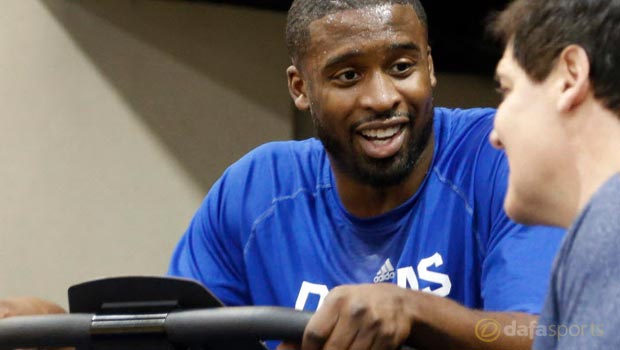 Mavericks' head coach Rick Carlisle insists the team will take their time with Wesley Matthews as the latter continues his recovery from injury.
The 28-year-old shooting guard suffered a torn Achilles tendon in his left leg back in March when playing for Portland Trail Blazers against Dallas and was subsequently ruled out for the remainder of that season.
At the time, the American was the Blazers' third-leading scorer and most prolific three-point shooter, averaging 16.1 points, 3.7 rebounds, 2.3 assists and 1.3 steals a game while shooting 39.1percent on threes.
Matthews has since joined Dallas on a four-year deal and, despite showing positive signs in recover, Carlisle insists the new arrival will be given as much time as needed.
"You know, we've done research on it," he said. "We've talked to his people, and we talked to the doctor that did the surgery. Casey has all that information. He's definitely on track for a full recovery, but we're going to be erring on the side of being conservative and cautioned.
"I think the most important thing is that he makes a full recovery, because we're signing him to a four-year deal. The first year is more about making sure that he's right and getting him out there on the right terms, and from there we want him to make a full recovery and continue to get better."
It looks like it will not be the barnstorming season many were hoping Matthews would bring to the Mavericks and instead more about ensuring a successful rehabilitation is completed.
The 2011 Championship winners should really be targeting a place in the play-offs at the very most and the odds of 51.00 to win the league outright highlight this.
Cleveland Cavaliers are the favourites at 3.75 while the San Antonio Spurs are closely behind at 4.75.
Leave a comment