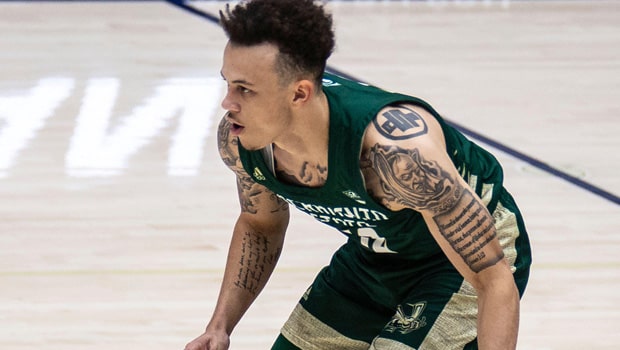 Last Chance U: Basketball brilliantly captures the chaos and heart in the junior college basketball world, following the East Los Angeles College Huskies. Drama, man tears and weird stuff were at an all-time high, thanks to some of the best personalities ever seen in the successful Netflix series, which documents how a basketball coach with strong convictions leads young men who hope to fulfill major college potential.
Players end up in JUCO basketball for the 'three A's': either they need academic help, they're athletically limited, or they're assholes. Last Chance U: Basketball documents their struggles in detail. Coach John Mosley explains that at the level of JUCO basketball, "everybody's playing to get out," and he views it as his role to help his players attain that escape. "If you have a heart to change, the door is open here at East LA College," Mosley said.
After East Los Angeles College's fight to win the state championship was cut short due to the COVID-19 pandemic, many of their players accepted other opportunities at the next level. Deshaun Highler quickly became the captain of the East Los Angeles College Huskies. The coaches relied on him to keep the team together and his peers let him lead them. Highler lost both of his parents within the same year, forcing him to mature early and fend for himself. His mother, who died from cancer in 2018, made him promise that he wouldn't let her death get in the way of his basketball dreams, which is why he enrolled in East Los Angeles College two weeks after she died.
Highler moved out of the Riverside home he had shared with his late mom to Sacramento, where he lives with his girlfriend Kiera, who recently started Kaykurl, an all-natural hair-care product company. Highler joined Division I team Sacramento State.
Sacramento State confirmed that most of their spring semester classes were still being held virtually. However, their basketball team, led by head coach Brian Katz, played this season despite 10 canceled games due to COVID-19. The Sacramento State season just ended on March 10 with a 90-83 loss against Northern Colorado at the four-day, single-elimination Big Sky Tournament. Sacramento State finished the season with an 8-12. Highler averaged 5.0 points and 1.6 assists, shooting 41.2 percent from the field and 33.3 percent from beyond the arc in 19.6 minutes over eight games (one start) He is a computer science major and is completing his junior year.
Leave a comment