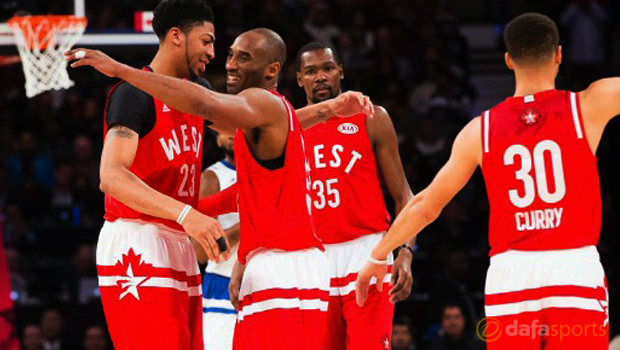 Kobe Bryant says his generation will leave the NBA in a much better place compared to how they found it.
The 37-year-old played his final NBA All-Star Game at the weekend in Air Canada Centre in Toronto and afterwards he was happy to reflect on the legacy he will leave behind.
The LA Lakers shooting guard will call time on his career at the end of the season and the All-Star Game marked his 18th appearance at the annual showdown between the Eastern and Western conferences.
Bryant says the game is in a better place now, despite the reservations those in power held when his generation came on the scene.
He says all they ever wanted to do was play basketball and entertain people.
"As far as the league, when we first came in, the elder statesmen said this younger generation has no idea what they're doing, they're going to kill the game," said Bryant.
"When we came in, we were just young kids that wanted to play. It was a new generation, newer culture, but I think where the game ended up, it ended up in a beautiful place. The game is in a beautiful place now."
It was an emotional occasion and Cleveland Cavaliers star LeBron James said it was a strange feeling to know that Bryant would not be sharing a court with him again.
"It was just bittersweet being out there on the floor with him, knowing that the matches between us two are coming to an end soon," he said.
The Cleveland Cavaliers are 3.75 to win the NBA Championship this season while the Golden State Warriors are 2.20 to retain their crown.
Leave a comment