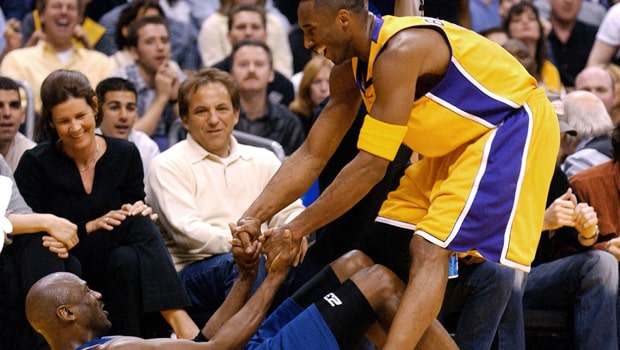 Welcome to the Hall of Fame, Kobe! Kobe Bryant is one of the greatest NBA players of all-time and the greatest Laker ever. Two jersey numbers in the rafters at the STAPLES Center prove it. Kobe was able to take over games in ways that not many players could.
His drive to win at any cost helped him succeed on and off the court. An 18-time NBA All-Star, five-time NBA champion and one-time NBA MVP, Kobe tragically passed away on January 26, 2020. Kobe's game was influenced by Michael Jordan, he never denied it.
During Bryant's memorial at the STAPLES Center last February, MJ delivered an emotional eulogy, "Maybe it surprised people that Kobe and I were very close friends. But we were very close friends. Kobe was my dear friend. He was like a little brother. Everyone always wanted to talk about the comparisons between he and I. I just wanted to talk about Kobe."
Widely seen as the best basketball player of all-time, Michael Jordan played 15 seasons in the NBA with the Bulls and Wizards, winning six NBA championships and achieving other numerous accolades.
Jordan retired for three seasons before coming back to the league in 2001 as a member of the Wizards for two years. He is the current owner of the Hornets and a member of the Basketball Hall of Fame.
"Because as a kid growing up in Italy, all I had was video, so I studied everything," Kobe said in 2016. "I studied every player. Then once I came back to the States, [and] I realized I wasn't going to be 6-9, I started studying Michael exclusively."
"And then when I came to the league and [was] matching up against him, what I found is that he was extremely open to having a relationship, a mentor relationship and giving me a great amount of advice and an amazing amount of detail, strategies, workout regimen and things like that," Kobe added. "Seriously, I don't think people really understand the amount of impact that he's had on me as a player and as a leader."
"He paid me the highest respect by trying to emulate certain things I did. I can only repay that by showing my support and admiration for a guy who I felt was one of the greatest to ever play the game," MJ said.
Leave a comment