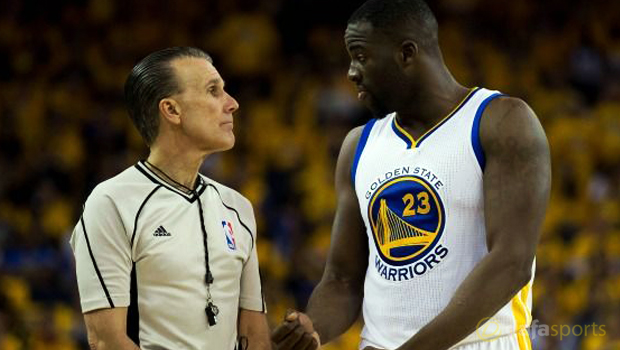 The intense rivalry between Golden State and Cleveland Cavaliers could be reaching new heights with Game 5 set to take place without one of the Warriors' key men, Draymond Green.
Green was on thin ice heading into the finals as he was one flagrant foul or two technicals away from an automatic one-game suspension, which has now been enforced after his clash with LeBron James in Game 4 on Friday night.
James stepped over Green while he was on the floor after an altercation between the pair and the Warriors' power forward appeared to lash out at his opponent's groin before a war of words erupted, something which did not help Green's cause.
The NBA authorities have decided Green he has taken things too far this time, and he will miss Game 5, although with home advantage, the Warriors remain the 1.40 favourites to win and therefore wrap up the series and a second successive title.
The suspension could work one of two ways with Cavs coach Tyronn Lue suggesting the Warriors will now be missing their "heart and soul", but Klay Thompson insists the NBA outright 1.03 favourites will all step up to the plate to cover for his absence.
"It's disappointing, but I'm not going to let it get us down," Thompson said. "We had a next-man-up approach all year.
Draymond, we know it's going to kill him not being there, but we're going to go out there and do it as a team and win for him.
Go out there and try to make a statement on our home floor."
Leave a comment