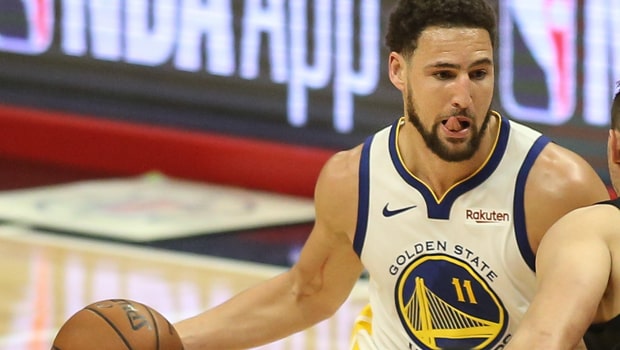 Golden State Warriors talisman Klay Thompson recently made a return to the NBA after a long gap of 941 days. Thompson played for the first time against Cleveland Cavaliers after scoring 30 points in the sixth game of the NBA finals in 2019. The linchpin suffered an ACL in that same match, which ruled him out for almost three years.
Meanwhile, since his return, Thompson was not at his usual best while shooting as he looked a bit rusty. Since his return, he has been shooting 20-of-56 (35.7%) from the field and 10-of-28 (35.7%) from the three-point line in four matches he had played, which was well below his career average of 46%.
Thompson made a brilliant comeback as he top-scored with 21 points on 6-of-13 shooting, including 3-of-8 from 3 against Detroit Pistons to take his team to a convincing 102-86 win on Tuesday night. The superstar added that he is not going to stop shooting the ball even if he misses 100 shots in a row as it is his strength.
"I don't care if I miss 100 shots in a row, I'm never going to stop shooting the ball," Thompson said. "I love it too much, and I work too hard not to."
"Oh, yeah, no question," Thompson said when asked whether his performance was his best since returning to the court. "Made some shots, made some tough shots on the move. … I was just happy to see the ball go through the rim."
On the other hand, Golden State Warriors head coach Steve Kerr added that Thompson is definitely growing in confidence.
"He's getting his legs underneath him, for sure. He's looking better and better, and his wind and conditioning has improved," Warriors coach Steve Kerr said.
Meanwhile, GSW star Steph Curry contributed 19 points to the win. Warriors will next face Indiana Pacers on Thursday night.
Leave a comment