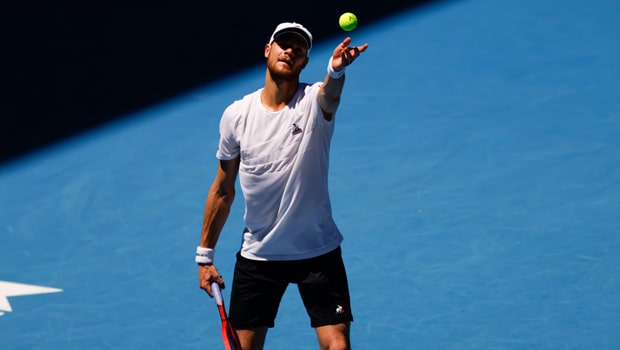 Tennis veteran Rafael Nadal admitted that Yannick Hanfmann's level was higher than what his ranking says after he defeated the German in the second round of the ongoing Australian Open in straight sets by 6-2, 6-3, 6-4 at the Rod Laver Arena on Wednesday.
Hanfmann is currently ranked at 126 in the ATP rankings but Nadal feels his game was better than what his ranking suggests. Nadal was able to get a break early in the first set and comfortably took the first set by 6-2.
Subsequently, Nadal had a lot of chances to break the German's serve in the second set but could not capitalize on his chances. The lefty finally broke his opponent's serve in the eighth game of the second set and took a 2-0 lead after bagging the second set by 6-3.
Nadal then once again took an early break in the third set and came up with his best. On the other hand, Hanfmann made Nadal toil hard for his win and impressed with his backhand.
"Having played him before at Roland Garros I knew that he is dangerous," Nadal said after the two-hour, 42-minute result. "His result against Thanasi [Kokkinakis] in the first round says that he is playing great and coming from the qualities he was used to the courts. He has big shots, a good service and has a lot of potential. Today his level was much higher than his ranking says."
Nadal admitted that he has to improve and he will train hard again to prepare for the third-round game.
"As I said before the tournament, things are not going to be perfect, but every day that I spend on court, the chances to play better a higher," Nadal said later in his press conference. "Things that I can improve I have to improve. Winning today allows me to practice again tomorrow, to be ready for another match. After two matches it's the moment to make a step forward."
The lefty will next face Olympic silver medallist Karen Khachanov in the third round and added that it is going to be a big challenge.
Nadal concluded, "I am in the third round. I need to win very tough matches to be there. Is not in my mind now. I have enough work I don't like," the Spaniard said. "I think playing against Khachanov now, probably Khachanov, going to be a big challenge. Always is a big challenge against Karen."
Leave a comment