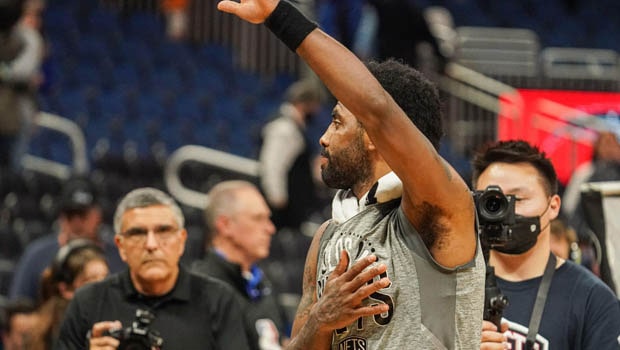 Brooklyn Nets talisman Kyrie Irving was in the beast mode as he scored 60 points against Orlando Magic on Tuesday to help his team obliterate Orlando Magic by 150-108. Irving was on a roll against the Magic as he brought his best to the court.
The Nets scored 86 points in the first half of the game as Kyrie Irving scored 41 of them. The Nets completely dominated the first quarter by 48-30 and then outclassed the opponent by 38-26. Furthermore, Nash's team scored 34 points in the last quarter of the game whereas Magic could only add 19 points.
"He's just incredible," Nets coach Steve Nash said. "I felt like he had my career highlight reel in the first 12 minutes of the game. It's special to watch him every night — but it's special to watch him on nights like this, where he's in total control, total command. He gets wherever he wants and is able to finish amongst the trees. It's just a pleasure to see it up close and to be a part of it."
Irving scored 20/31 from the field whereas he converted 12/13 free throws. Furthermore, he scored six rebounds and four assists to have a perfect night for himself as well as the team. In fact, as Irving was putting on a masterclass, even the Orlando crowd for cheering for him.
"I'm sure in the first quarter y'all seen it developing," Nets star Kevin Durant said. "Sixteen in the first and then midway through the second all of us on the bench are still looking — it's just like that every game for Ky, when you look up and, like, 'Damn, he got 10, 12, 14 points already.'
"We have seen he was well on his way to a high-scoring night, so 60 — the night after Karl Towns had an incredible performance, and then to have Kyrie do it the next night, the league is in an incredible place right now."
Meanwhile, Kevin Durant had scored 53 points on Sunday against New York Knicks. As Irving scored 60, he and Durant became the first teammates to score more than 50 points in successive matches of the NBA.
"Making history, man. making history," Irving said. "Doing it with that guy is very special. But credit goes to our group. Our guys in our locker room, they really believe in us, they really rock with us, there's not a doubt in our mind that they really believe that we can do something special. And not just this year, but for years to come. We have a good group. And we're all sacrificing something that's bigger than ourselves."
Brooklyn Nets will next face Dallas Mavericks on Wednesday.
Leave a comment