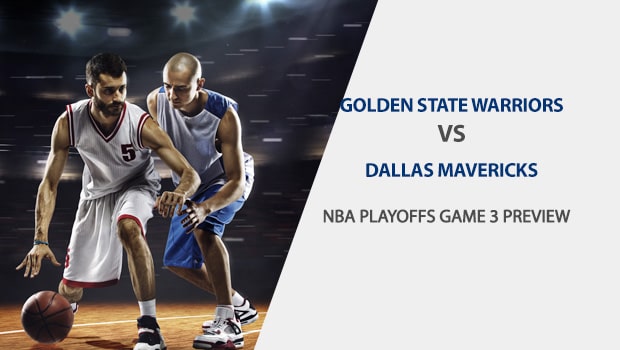 The Dallas Mavericks try to get back in the Western Conference Finals with the Golden State Warriors in Game 3 on Saturday. The Mavericks led by as many as 16 points in the first quarter but the Warriors stormed back and won Game 2 126-117 last Friday.
Golden State Warriors vs. Dallas Mavericks
Sunday, May 22, 2022 – 09:00 PM EDT at American Airlines Center
Game 3 Key: The Dallas Bench Has to Show Up
As we predicted, Luka Doncic played much better in Game 2, exploding for 42 points, eight assists, five rebounds and three steals on 12 of 23 shooting and 5 of 10 from beyond the arc and Jalen Brunson was his co-star with 31 points, seven rebounds and five assists. Is Brunson's level sustainable for Game 3? Will other players step up? The Warriors are a machine that saw prime LeBron and were able to live with him getting 40/8/8 when Kyrie Irving and Kevin Love were out in the NBA Finals in 2015.
The Mavericks won't win Game 3 unless Doncic and Brunson go off but they also need way more from Spencer Dinwiddie, who had just four points on 2 of 6 shooting and 0 for 2 from 3-point range in 22 minutes off the bench on Friday. The five Dallas reserves scored just 13 points combined while Jordan Poole had 23 points for the Warriors… Bench play made a big difference on Friday and the Mavericks won't win this game unless this unit contributes.
X-Factors
The Warriors know what they will get from Curry, Thompson, Green and Poole but it's Kevon Looney who changes everything. Looney had a career-high 21 points with 12 rebounds in Game 2 and while he may not provide the spacing that many are so obsessed with, in the playoffs you need a rim protector and grinder. Looney provides rebounding, size, physicality, easy baskets and alters the game defensively.
Special mention to Andrew Wiggins, who added 16 points, five rebounds and five assists on Friday. Wiggins was always good, he does it all, he elevates the Warriors on both ends and is perfect in this role.
Today's Warriors are better than the 2015 Warriors. Jordan Poole and Andrew Wiggins bring a burst of athleticism, energy and scoring outside of Stephen Curry and Klay Thompson.
Dafabet Picks
Team to Win (Regular Time)
• Dallas Mavericks: 1.78
• Golden State Warriors: 2.14
Spread
• Dallas Mavericks: -2.5 (1.93)
• Golden State Warriors: +2.5 (1.88)
Total
• Over 219.5 (1.93)
• Under 219.5 (1.88)
Betting Trends
The Under is:
• 4-1 in Golden State's last five games after allowing 100 points or more in their previous game
• 5-2 in Golden State's last seven games after scoring more than 125 points in their previous game
• 5-2 in Golden State's last seven games as an underdog
• 26-5-1 in Dallas' last 32 home games against a team with a winning road record
• 19-7 in Dallas' last 26 games as a home favorite
• 5-2 in Dallas' last seven games after allowing 100 points or more in their previous game
Projected Leaders
For the Warriors, Stephen Curry is projected to finish with 26.1 points, 8.1 assists and 4.9 rebounds, making 8.2 field goals in 19.8 attempts.
For the Mavericks, Luka Doncic is expected to score 34.3 points with 10.9 assists and 10.9 rebounds, making 11.6 field goals in 24.8 attempts.
Analyst's Pick
Under 219.5 (1.88)
Two-star (out of four) AccuScore hot trend pick on the total in this one. Average score in simulations is Golden State Warriors 109.0 to Dallas Mavericks 106.5.
Make sure to check all other MLB, NFL, NCAA, NHL, NBA and soccer game predictions from AccuScore Dafabetsports.com
Leave a comment