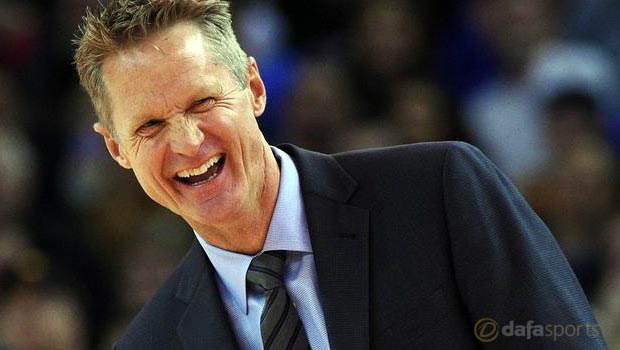 Golden State Warriors coach Steve Kerr has laughed off talk his team is capable of emulating the 1996 Chicago Bulls after a 12th straight regular season win.
Golden State have been the story of the NBA season so far, blowing away the majority of their opponents as they eased to the Pacific Division title.
The Warriors latest victims were Western Conference rivals the Dallas Mavericks, who were always behind as they slumped to a 123-110 defeat on home soil.
That triumph improved Golden State's record for the regular season to 63-13 and guaranteed they would have home-court advantage throughout the play-offs.
Kerr has now set an NBA record for most wins by a rookie head coach in a season and after Saturday's latest victory, was asked whether he thought his current side could match the achievements of Chicago in 1996.
Kerr was part of the Bulls team which went through the regular season with a 72-10 record before clinching the NBA Championship.
The Golden State coach says it is too early to make comparisons with that great Chicago team but did heap praise on his side's offensive abilities, Klay Thompson leading the scoring against the Mavericks with 21 points.
"It's hard to compare anybody to the 96′ Bulls, Michael Jordan, Scottie Pippen … but that's crazy to even bring that up … that's blasphemy right there," Kerr told reporters.
"The west is loaded; the Mavs are one of the best offensive teams in the league. You have to outscore them to beat them, which we have done.
"We have a very explosive offensive team and we're younger and we have been able to run and push the ball and have some success."
Leave a comment