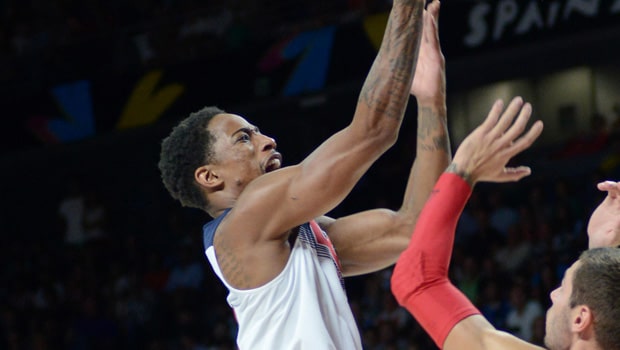 Kobe Bryant is a big name in basketball history. Young stars like Kyrie Irving, Devin Booker, Zach LaVine and Jayson Tatum, to name a few, still take inspiration from Kobe for his work ethic and the legacy he has left behind. Kobe's signature line with Nike caters to youngsters with inspiration. After his passing, players took to wearing Kobe sneakers to mark their honor for him.
Recently, the Bulls forward DeMar DeRozan spoke about Kobe and how players viewed him with respect. While speaking about Kobe sneakers, DeRozan had good things to say and compared the 'Black Mamba' with MJ saying, "This generation looks at Kobe like our Jordan."
Kobe Bryant is also one of the greatest NBA players of all-time and he had valuable advice on overcoming anxiety and fear. Some believe that Kobe could be the greatest Laker ever. Two jersey numbers in the rafters at the STAPLES Center prove this.
He took over games in ways that not many players could. Kobe's mentality on and off the court is one of the main reasons why he is one of the very best to ever do it. What makes the greats great is not what they do. What makes them great is what they overcome. They understand big moments.
It's hard to believe that Michael Jordan, to me the best basketball player of all-time, was cut from high school team as a sophomore but it really happened. Just a few years later, North Carolina claimed the 1982 national championship after MJ made the game-winning jumper against Georgetown. This was the beginning of Jordan's legend. He then won six NBA championships in six trips to the NBA Finals, as well as eight scoring titles, five regular season MVP awards, six NBA Finals MVP awards, three NBA All-Star game MVPs and one Defensive Player of the Year award.
Michael Jordan established a record by making the NBA's All-Defensive First Team nine times and he was a 14-time NBA All-Star and a former NBA Rookie of the Year (1985). Jordan finished his career with 32,292 points, averaging 30.1 points in 1,072 games over 15 years (13 with the Bulls). He also had 6,672 total rebounds, 5,633 assists, 12,192 field goals and 5,633 steals.
MJ averaged 31.5 points, 6.3 rebounds and 5.4 assists in 930 games over 13 seasons with the Bulls and he was the star of their legendary teams in the 90s. He averaged 28.7 points, 5.8 rebounds and 3.5 assists in 38.8 minutes over 82 games to win the NBA MVP award in his final season with the Bulls in 1998.
Leave a comment