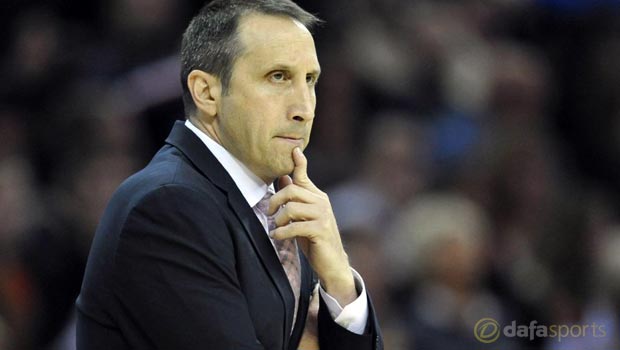 Cleveland Cavaliers coach David Blatt says his side face a tough match-up against the Boston Celtics in the first round of the NBA play-offs.
The Cavaliers ended the regular season atop the Central Division with a 53-29 winning record but Blatt, in his first season in the NBA, says that it will mean little or nothing when they take on a Celtics outfit who finished second in the Atlantic Division.
"A really, really, really good team," Blatt warned. "Extremely well coached, hungry, ambitious. Playing very well and athletic around the court. Not a simple first-round match-up at all."
Meanwhile, Cavs superstar LeBron James says that expectations within the group are more of a concern than any outside pressures which will come the way of his highly-fancied side.
"We have our own expectations," he said. "We don't worry what everyone else thinks of what we should do. It's about what we expect out of ourselves."
Over in Toronto, the Raptors hope to make a winning start at home to the Washington Wizards and are 1.50 to do so, with DeMar DeRozan backing his side to impress from their position as fourth seed in the Eastern Conference.
He told ESPN: "There isn't a team I look at in the Eastern Conference that makes me say, 'they are intimidating, we don't have a chance'."
The Atlanta Hawks go into the play-offs as the top seeds in the Eastern Conference and they begin their post-season against the Brooklyn Nets, while the final match-up sees the Chicago Bulls take on the Milwaukee Bucks.
Leave a comment