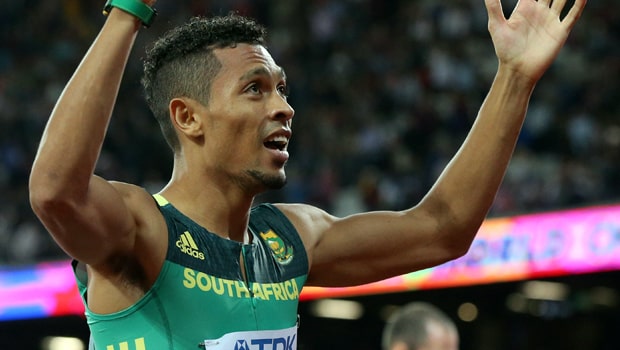 South African 400M world champion Wayde Van Niekerk will not be able to defend the titles he won at the World Athletics Championships in Beijing, China 2015 and London 2017, when the Championship returns in September 2019 in Doha, Qatar after suffering a minor injury setback.
The South African, who is also the Olympics Champion in that category, claimed gold at the 2016 Rio Olympics. He was able to set a world record time of 43.03 seconds beating Michael Johnson's 1999 World Championships record time of 43.18 seconds set in Seville Spain.
Van Niekerk suffered a freak injury in October 2017 during a celebrity touch rugby match, making an inverted cut and tore his anterior cruciate ligament (ACL) just months after winning his second 400M title in the UK.
He, however, made a return in February 2019 at the provincial Free State championships in central city Bloemfontein. There, he won a 400m race in 47:28 seconds, just 4:25 seconds off his world record after being sidelined for more than 15 months out, failing to participate in any meets in 2018.
As a precaution after encountering a minor injury setback, Niekerk will now miss 2019 Athletics championships in Doha which will start from 27 September till 6 October,
"I'm positive and taking things day by day, and I am respecting all the calls made by the doctor and respecting my body. For me, it is about listening to my body and taking it from there. For now, I am not rushing myself or putting pressure on myself. I'm extremely happy and at peace with where I am", the South African disclosed in a statement.
His attempt at clinching a world title for the third time consecutively in Qatar is now off despite having a wildcard for the event.
Leave a comment