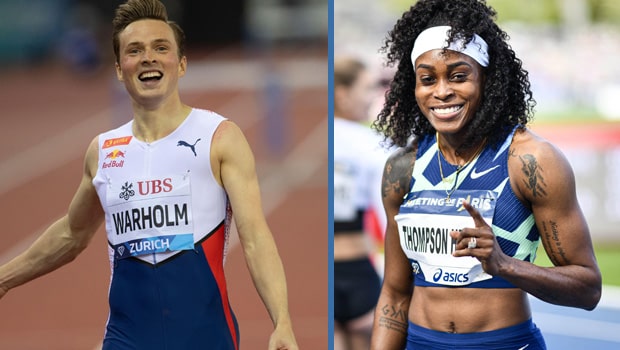 Jamaican Elaine Thompson-Herah and Norwegian Karsten Warholm have been named the World Athletes of the Year 2021. They received the recognition at the World Athletics Award, which took place on Wednesday as a virtual event. Both athletes won gold at the Tokyo 2020 Olympics, and carry behind them a plethora of awards and records.
29-year-old Thompson-Herah won three gold medals at the Olympics this year, in the 100m and 200m category, repeating the same feat she achieved in 2016 at the Rio Olympics in Brazil.
This made her the first woman in history, and the second person after Usain Bolt, to win gold in two sprints in back-to-back Olympic games. Her performance at the 100m sprint in Tokyo this year, finishing the race in 10.61s, was a new Olympic record. She beat that record at the Prefontaine Classic, with a new record of 10.54s. She has now moved to second in the world all-time rankings. Her third Olympic gold medal in Tokyo was in the 4×100 relay.
Speaking after collecting her award, the Jamaican said that she was aiming for the world record and hopes to beat that soon. She also revealed that she would be running at the World Championships in Oregon next year.
25-year-old Warholm broke two records this year and one of them was his. Just before the Tokyo Olympics, he broke the 29-year-old world record in 400 metres hurdle by finishing it in 46.70 seconds. In the Tokyo Olympics, he broke that record by finishing in 45.94 records in what many call one of the greatest Olympic performances of all time. What made the race particularly tough was because the athletes who finished second and third all finished above the pre-2021 record. The feat got him his first Olympic gold.
Other athletes who were recognised include American Athing Mu, who was named the Female Rising Star, after winning women's 800m Olympic title in Tokyo while fellow 17-year-old Erriyon Knighton was named the Male Rising Star for finishing fourth in the men's 200m final.
Leave a comment