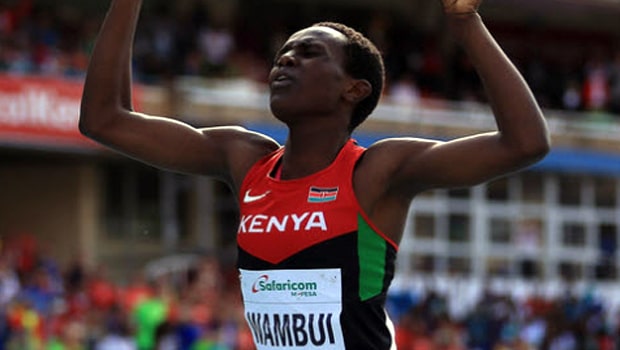 Paul Mutwii, the Vice President of Athletics Kenya in charge of competition has revealed that two Athletes, Jackline Wambui and Kageha will not participate in the IAAF World Championships in Doha later this month.
The director in charge of Competitions stated that both athletes refused to undergo the compulsory test and as such withdrew from the tournament.
"The IAAF has set tough conditions on gender and doping and we must comply. If an athlete fails to take the tests, they are definitely out of the (world) championships, Wambui and Kageha declined the test on testosterone levels. They had no choice but to withdraw," said Mutwii.
The decision of Wambui to pull out of the competition means Kenya has only 2013 800M world champion Eunice Sum left in the 800M race.
Meanwhile, finalists in the 5,000M national trials Michael Kibet and Daniel Simiyu, are still waiting to get cleared for the championships after failing to meet the requirements for 1 in-competition and 3 out-of competition dope test set by Athletics Integrity Unit (AIU).
Nevertheless, the Athletics Kenya (AK) has entered Kibet and Simiyu who both finished 1st and 2nd respectively at the 500M national trials with a report to be received from the AIU on Monday.
Meanwhile, Jacob Krop alongside Nicholas Kibet who were third and fourth at the national trials have also been presented should Simiyu and Micheal Kibet fail to get cleared by the AIU.
Furthermore, defending Champion of the men's 1,500M Elijah Manangoi has pulled out of the championships due to an ankle problem, while World Record holder in the 1,500m female event Genzebe Dibaba will also not feature at the World Championships due to a foot injury.
Team Kenya will depart the country next Tuesday ahead of the world championships which will start on September 27 and October 6.
Leave a comment