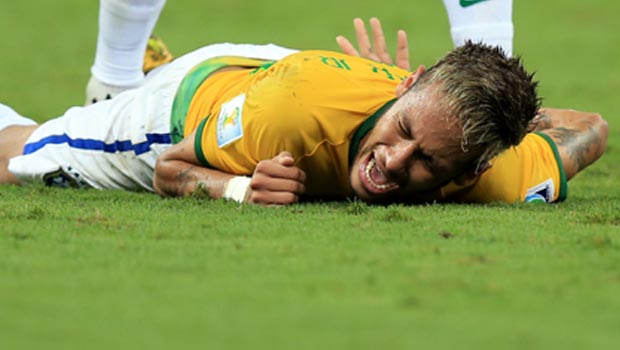 Neymar believes that Brazil can still win the World Cup, despite the striker suffering an injury that will rule him out for the rest of the tournament.
The 22-year old suffered a broken vertebrae in Brazil's 2-1 quarter-final triumph over Colombia on Friday and has since released a video to fans, issuing his sport for the national side.
Neymar, who was visibly upset in the video, said: "My World Cup has not ended, it has been interrupted by a play but the tournament goes on and I told my team-mates to do everything in order to help me achieve my dream to be world champion.
"My dream was to play at a World Cup final, but I'm certain my team-mates will be champions. I will be there with them and all Brazilians will soon be celebrating all of that."
Despite the forward's positive outlook on the injury – which was caused by a late aerial challenge from Colombia's Juan Zuniga – the news that Brazil's poster boy is now out of the World Cup semi-finals appears to have had a detrimental effect on the host nation's chances of winning the tournament outright.
The Samba side, who have been the favourites to lift the trophy at times this summer, are now third-favourites to win the World Cup at a price of 3.60.
Bitter rivals Argentina and European giants Germany currently head the betting, at prices of 3.40 and 3.55 respectively.
Leave a comment