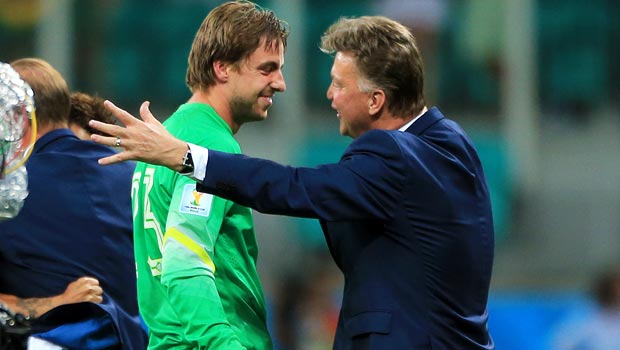 Louis Van Gaal has revealed that bringing goalkeeper Tim Krul on was always part of his plan, as Holland defeated Costa Rica 4-3 in a penalty shootout to advance to the semi-finals of the World Cup.
The European side's victory set up a last-four clash with South Americans Argentina, who progressed from their own quarter-final tie with a 1-0 defeat of Belgium.
The Netherlands are priced at 3.04 to defeat the Argentines and advance to the final, while a reverse result – which would see Argentina progress to the final – is priced at 2.49.
Holland had failed to break down a resilient Costa Rica defence throughout 120 minutes and with a penalty shootout looming, Van Gaal decided to bring on Newcastle United stopper Tim Krul in place of regular Dutch goalkeeper Jasper Cillessen to aid his side in the penalty shootout.
Speaking of the gamble, Van Gaal said: "We thought it through. Every player has certain skills and qualities and they don't always coincide. We felt Tim would be the most appropriate keeper to save penalties.
"You would have seen that Tim dived to the right corner twice. We're a tiny bit proud this trick has helped us through.
"We said nothing to Jasper because we didn't want him to know before the game. But as I've explained, every keeper has specific qualities. Tim has a longer reach and a better track record with penalties than Cillessen.
"We had discussed it with Tim. He knew about their penalties because he needed to be prepared. It worked out. If it hadn't, it would have been my mistake."
Holland's quarter-final victory saw them move into a price of just 4.30 to go on and win their first ever World Cup this summer.
Leave a comment