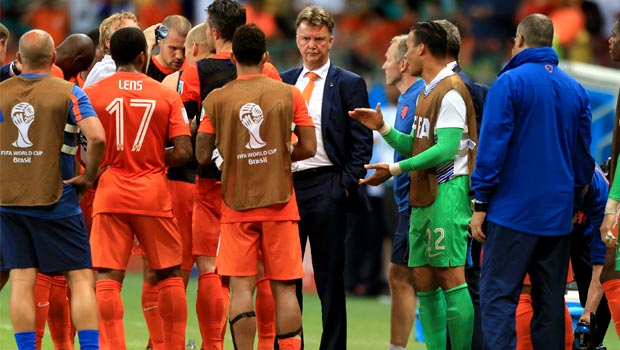 Louis van Gaal insists the third-place play-off is a World Cup match that should not go ahead but is still hoping that the Netherlands can at least use it to write a little piece of history.
The Dutch missed out on a place in the final after losing a penalty shoot-out to Argentina, following a goalless 120 minutes, while Brazil will be looking to right a whole lot of wrongs from their 7-1 embarrassment against Germany.
Van Gaal is fully aware that neither side really wants to play Saturday night's fixture but will look to use it to end a World Cup campaign without defeat for the first time in Holland's history.
"There is still something for us to do here – we can still write history," Van Gaal said.
"Holland has always lost a match in a World Cup. That happened in '74 and '78 (when they made the final). I hope I can prepare them to play a good match.
"It will be my last match and the players may want to give me a present in the form of a victory so we can leave undefeated.
"It's quite something to go seven matches unbeaten."
Van Gaal has delayed naming his side as he wants to give his players as long as possible to recover from the gruelling 120-minute tussle with Argentina on Wednesday, although he has hinted he may throw one or two squad players into his starting XI.
And as if Brazil needed extra motivation for the clash, Van Gaal has again stated his belief that the tournament has been set up in the hosts' favour.
"I will stick to the facts," Van Gaal told a press conference. "The facts are that Brazil started first. And Brazil again has played first again and we played a day later.
"These are the facts. I am not going to beat around bush. Then you know what the implications are if that is the case.
"The question is: why? I think [Luiz Felipe] Scolari should think about that if he wants to do that and is allowed to do that."
Brazil, who have captain Thiago Silva available again after suspension, have been installed as 2.16 favourites in the match betting, with Holland on offer at 3.19 and the draw is at 3.65.
Leave a comment