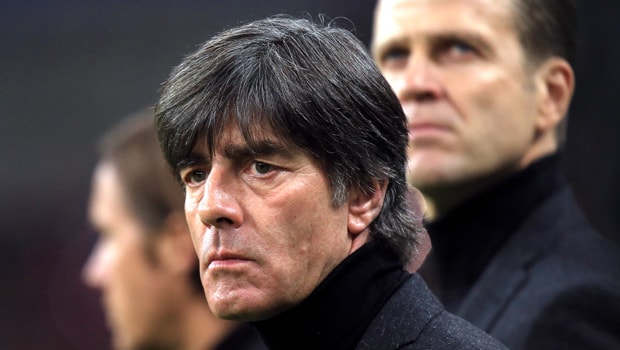 World champions Germany will recover from their shock loss to Mexico and qualify for the knockout stage of the World Cup in Russia, according to boss Joachim Low.
The holders looked a shadow of their usual selves as they were humbled 1-0 in Moscow by a creative and buoyant Mexican side.
Hirving Lozano scored the only goal in the first half as Mexico deservedly led at the break.
While Germany enjoyed territorial advantage in the second half and the South Americans had to cling on at the end, it was a fair result in their Group F clash.
They are the first German team to lose in a World Cup opener since 1982, while they followed Italy (2010) and Spain (2014) in losing the opening game of their title defence.
Spain's defeat to the Netherlands in Brazil four years ago led to a first-round elimination but Low is not foreseeing a similar fate for his team.
"We will not suffer that fate, we will make it to the next round," he said.
"In tournaments, losing a match can happen and you have to accept it. We will not become reckless.
"We will continue to look forward. There is no reason to panic. We have three matches and ample opportunities to correct this result."
Low and his players have a six-day wait to face Sweden and rebuild their campaign on Saturday.
Real Madrid midfielder Toni Kroos, who saw a free-kick pushed onto the crossbar against the Mexicans admits the margin for error is now gone, suggesting Germany are "are now under pressure – we have to get six points from the next two games".
Germany are 1.40 to beat the Swedes, who are 8.50, with the draw 5.50.
Leave a comment