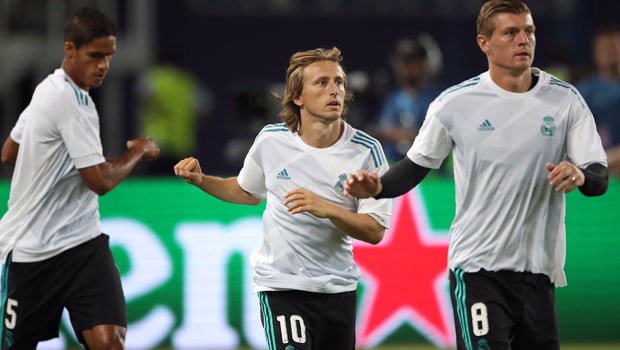 Luka Modric insists that leading Croatia out in Sunday's World Cup final against France will be a 'dream come true'.
Croatia came from behind to defeat England 2-1 after extra-time in Moscow on Wednesday evening and they'll return to the Luzhniki Stadium to face France in the decider this weekend.
Having survived two penalty shoot-outs and come through extra-time in all three of their World Cup knockout games, Croatia are certainly battle hardened going into the decider.
Their previous best performance was a semi-final loss to hosts France in 1998, their first World Cup after independence.
For Modric, being in a World Cup final is the greatest sporting achievement in his country's history.
"This is an amazing achievement for us," he said. "It's a dream come true after such a long time.
"We are in the final. It is the biggest success in Croatian history in sport and we have to be proud."
Croatia are underdogs at 4.50 to win the World Cup final, with France strong favourites at 1.85 to repeat their 1998 success. The draw is Moscow is 3.30.

The French press core will be doing well to give Croatia due respect ahead of the game, as Modric has suggested an apparent lack of respect from the England media was a motivating factor going into the semi-final.
The former Tottenham playmaker felt his side were not being give the credit they were due.
"Especially English journalists, pundits from television, they underestimated Croatia and that was a huge mistake," Modric added.
"All these words from them we take, we were reading and we were saying, 'OK, we will see who will be tired'.
"And like I said they should be more humble and respect opponents more."
Leave a comment