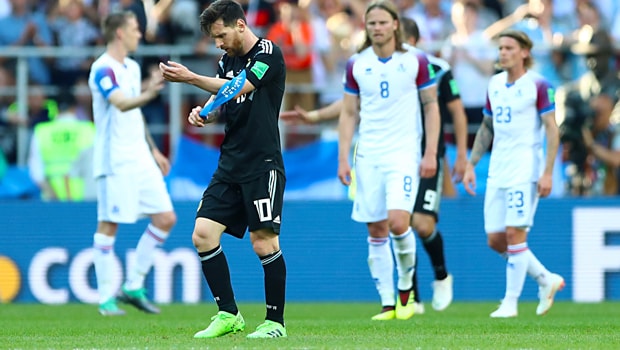 Argentina skipper Lionel Messi insists he was 'hurt' to miss his penalty during the 1-1 draw with Iceland but he has urged his side to move on quickly.
The Barcelona star had been hoping to help Argentina make a solid start to the tournament in Russia but his 2018 World Cup got off to a miserable start.
Argentina were held in their Group D opener after Iceland keeper Hannes Halldorsson dived to his right in the 64th minute to deny Messi a goal from the spot.
The 30-year-old continues to struggle at World Cups but he is determined to move on as his team prepare to take on Croatia in their next match.
He told reporters: "It would have changed the script. It was the advantage.
"Obviously it hurts me to have missed the penalty. They would have opened a little more and we could have found more spaces.
I feel responsible for not having been able to take the three points. I have no doubt that a goal from the penalty kick would have changed everything.
"We will try to pass this quickly. We have not lost our hopes despite the draw, we still have the same desire. I think we deserved the victory.
We worked hard trying to find spaces in the Icelandic defence, but we couldn't do it.
"This result doesn't have to weigh on us looking forward. We have a few days to rest and to prepare the next match."
After the clash with Croatia on Thursday, Argentina then take on Nigeria on June 26 in what will be their final group game.
Leave a comment