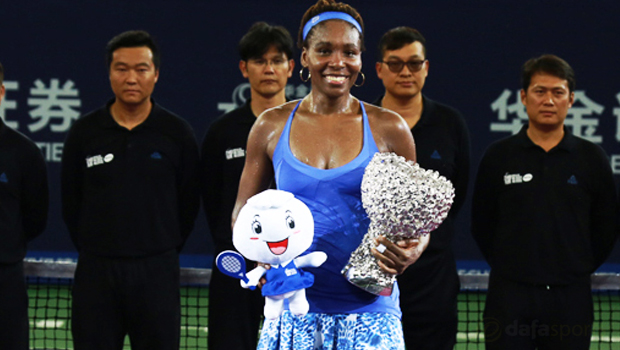 Venus Williams recorded her 40th win of the calendar year when outgunning Roberta Vinci 6-2 6-2 in just 65 minutes to reach the Huajin Securities WTA Elite Trophy final in Zhuhai.
The American veteran had to fight off a match point to beat Vinci in the semi-finals of the Dongfeng Motor Wuhan Open a month ago – but this time around encountered few problems.
The top seed broke serve six times to record a one-sided win and improve to 5-0 against the US Open finalist.
"Wow, first final here – I'm very honoured to be in the first final in Zhuhai!" Williams said in her on-court interview after the match. "Today wasn't an easy match – every game was really well-contested and she never gave me any points. She's had a great year; I felt like I really earned the win today."
The 35-year-old has enjoyed a stellar end to 2015, recently winning the Wuhan Open, and is hoping to collect another trophy in the Far East.
"China's been good to me this year!" Williams said. "I played well in Wuhan, and now another final here in Zhuhai, and I hope I can win one more match. It won't be easy – I'm looking forward to it."
When asked about her chances of winning the competition in its first year, the seven-time Grand Slam winner said: "It's just an experience for the players – this has been amazing. Of course, the participation from the fans is another amazing moment. And engagement of the city. Again, amazing."
Williams will be playing in the 78th WTA final of her career (she is 47-30), while Vinci will end the season inside the women's world Top 20 thanks to her run at Flushing Meadows as well as reaching the semi-finals in Wuhan and Zhuhai.
Leave a comment