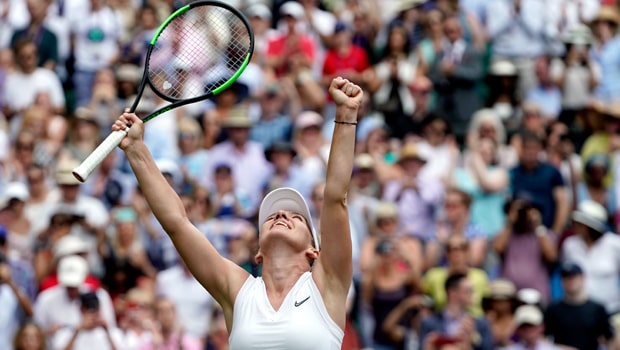 Simona Halep said reaching the women's Wimbledon final on Saturday was one of the best moments of her life.
The 27-year-old Romanian will play Serena Williams in the showpiece and got there with a comfortable 6-1 6-3 victory over eighth-seed Elina Svitolina. Halep's previous best at Wimbledon was a semi-final appearance in 2014 and it seemed as if grass was her least favourite surface.
However, she has adapted well to the switch from clay this year and has admitted feeling happier with her footing on the surface. She said after booking a place in Saturday's final: "It is one of the best moments of my life. I'm really excited but also nervous. I'm just trying to enjoy it as much as possible.
"It was not as easy as the score shows. I fought really hard, [Svitolina] is an amazing player and it's always tough to play against her."
Asked about what had changed for her since reaching the last four in 2014, Halep added: "I have more experience, I am positive on court and I am not giving up anymore. I have learnt many things in five years."
The first game of her semi against Svitolina lasted almost 10 minutes featuring long rallies and the centre court crowd would have been prepared for a mammoth battle. However, Halep took that first game, breaking the Svitolina serve and never looked back, wrapping up the match inside an hour and 13 minutes.
Head-to-head meetings with Serena strongly point to a Williams victory in Saturday's final. She has a 9-1 winning record over Halep, their only previous meeting on grass coming at Wimbledon in 2011 when Williams won through in three sets.
Halep is 2.50 to win on Saturday with Serena Williams 1.50. Halep is 9.00 to win the US Open, the final Grand Slam of the year with Williams 4.75.
Leave a comment