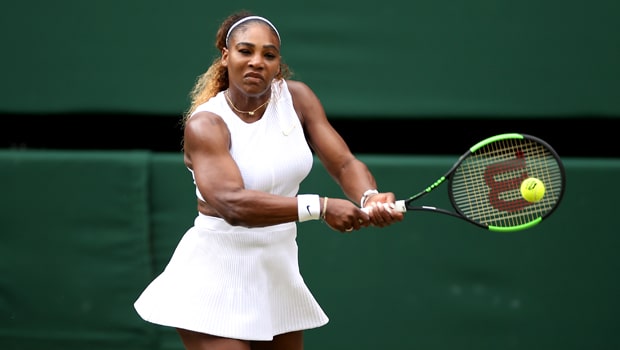 Serena Williams insists she is not feeling the burden of striving to equal Margaret Court's record of Grand Slam titles.
The 37-year-old American has won 23 major singles titles, one short of Court's record and stays in that position after defeat in the Wimbledon final. She was outplayed by Simona Halep 6-2 6-2 in what the Romanian said was the match of her life.
Williams has now lost her last three Grand Slam finals, two at Wimbledon and one at the US Open, but she stressed after the latest defeat that she is concentrating on her game rather than breaking records.
She said: "Someone told me I shouldn't look at the records, I should just focus on my game. That's what I've been doing since I got to 18. "It seems like every Grand Slam final I'm in recently it has been an unbelievable effort to get there.
"It would be interesting to see how it would be under different circumstances." She added that she felt her game was going in the right direction but, having had limited time on court in the run-up to Wimbledon, will play warm-up events in preparation for the US Open.
She is committed to playing in Cincinnati and Toronto this year and said: "Maybe playing other finals outside of Grand Slams would be really helpful just to get in the groove so by the time I get to a Grand Slam final I'm used to what to do and how to play."
Williams has won the US Open six times but suffered a straight sets defeat to Naomi Osaka last year. Williams is 5.25 to win the US Open, the final Grand Slam of 2019. Defending champion Osaka is 8.00 and Simona Halep 7.00.
Leave a comment