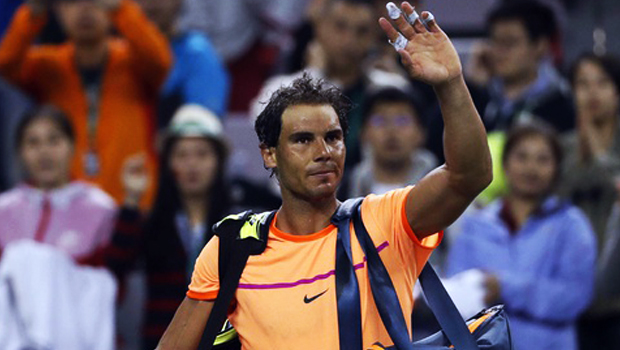 Former world number one Rafael Nadal has admitted that he may end the current campaign early to work on his game ahead of next season.
The 30-year-old was once again unable to find his rhythm as he lost his first match at the Shanghai Masters to Viktor Troicki.
Troicki secured a 6-3 7-6 victory to beat the 14-time Grand Slam champion for the first time in his career and Nadal looked worried throughout the match.
Nadal was beaten last week in the China Open quarter-finals by Grigor Dimitrov but he was hoping to bounce back at the first opportunity.
He last won a title in April and the Spaniard admits he needs to fine tune his game and is willing to miss the Swiss Indoors, Paris Masters and ATP World Tour Finals.
He told reporters: "Sometimes keeping (on) competing is not the solution. Sometimes the solution is to practice and stop and have a process of training. And maybe that's an opportunity to do it.
"I'm not sure about that. Maybe I'm going to play in Basel in two weeks. So it's not the day and not the moment to analyse all these kind of things.
"Every time that I hit the forehand, I need to create pain for the opponent, something that is not happening today.
"Maybe because I had an injury on the wrist and I am scared. Maybe because I still have some limitation in there. But at the end of the day, nobody cares about that and I don't care about that."
Leave a comment