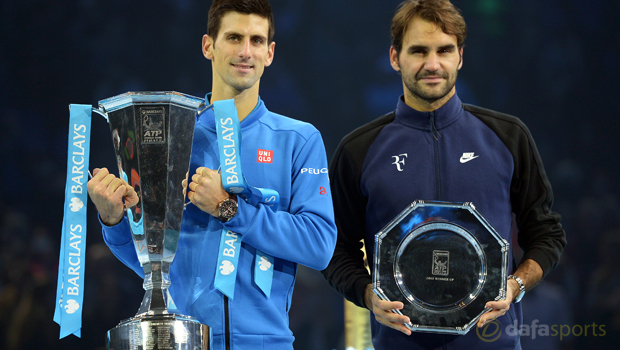 Novak Djokovic is confident he can "achieve more" in tennis after he defeated Roger Federer to claim his fourth successive season-ending ATP World Tour Finals title at London's O2 Arena on Sunday.
The Serbian world number one saw his 23-game winning run ended by Federer in a group encounter at the tournament last Tuesday, but exacted revenge with three service breaks on his way to a fairly comfortable 6-3 6-4 win in 80 minutes.
It capped a successful 2015 for Djokovic as he went close to achieving a calendar Grand Slam, but lost out to Stan Wawrinka in the French Open final.
The 28-year-old has 10 Grand Slam titles and is closing in on Rafael Nadal's 14, with Federer three further ahead on 17, so he has plenty to aim for looking ahead to the New Year.
The French Open remains Djokovic's most sought after major because it is the only one he has not won, while there is also an Olympic gold medal in his sights at the Rio Games in Brazil.
He said: "There are the Olympic Games that are happening every four years. Next year is going to be very condensed in terms of scheduling and in terms of the importance of certain events."
Djokovic added: "With the wins that I had this season and throughout my career, especially in the last five years, I put myself in a very good position, knowing that I made a lot of records and history.
"I'm convinced with this dedication to the sport, I can achieve more. How much, I don't know. I don't have a sense of urgency. I don't chase anything. I just try to be in the moment and see where it takes me."
Djokovic is 1.91 to start 2016 in style by retaining his Australian Open crown in Melbourne.
Leave a comment