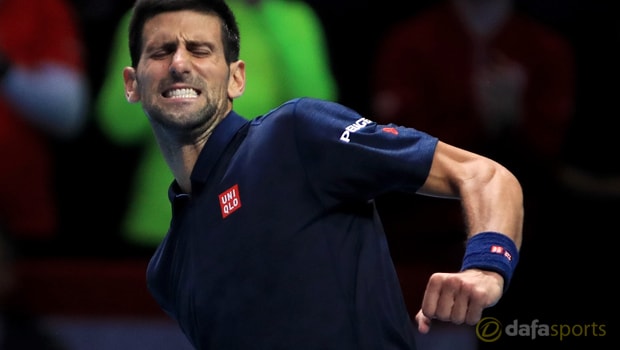 World number two Novak Djokovic

says he does not feel vulnerable as he has his sights firmly set on claiming another World Tour Finals title in London.
The Serb was recently knocked off his perch at the top of the world rankings by rival Andy Murray, however, he could regain the number one spot by the end of the year.
Djokovic has endured a tough second half to 2016 but he did look as though he was started to find some strong form again at the O2 Arena on Tuesday.
The 29-year-old had to show some grit to come through two tie-breaks against a battling Milos Raonic in the capital.
The 12-major champion claimed a 7-6 7-6 victory over the Croatian, as the tournament appears to be shaping up towards a Djokovic-Murray final.
Gael Monfils is next in line to take on Djokovic on Thursday and the five-time World Tour Finals champion insists he is no longer feeling vulnerable.
However, Djokovic was quick to stress that he is not at the heights he has maintained for such long periods throughout his career.
Djokovic said: "I don't feel vulnerable. "I never felt unbeatable, and I never will… but I did have periods of my career, especially in the last five years, when I really felt very confident on the court, and I was dominating the play, winning many tournaments in a row, matches in a row.
"In terms of consecutive matches, it would probably be 2011 when I won 42, 43 matches in a row.
You can't rely on that and think like that's going to be the case always. "But knowing that I have done it helped me to do maybe half of that a few times.
I guess even 10, 15, 20 matches in a row is pretty good. I'll accept that."
Djokovic can be backed at 1.13 to come out on top on Thursday, while Monfils is priced at 5.00 to cause an upset.
Leave a comment