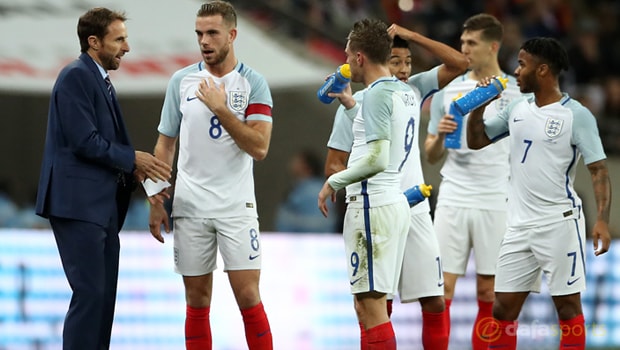 Liverpool midfielder Jordan Henderson

believes Gareth Southgate did enough during his interim spell in charge of England to secure the job permanently.
Southgate was handed four games to prove he has the ability to lead the national side on a long-term basis following the sacking of Sam Allardyce.
The 46-year-old picked up two victories, against Malta and Scotland, while he also oversaw two draws in the clashes with Slovenia and Spain.
Following Friday's emphatic 3-0 triumph over Scotland the former Middlesbrough boss appeared to be in a strong position to secure a contract with the FA.
England, who are priced at 1.10 to win Group F and qualify for the 2018 World Cup, then further boosted his chances as they went 2-0 up against Spain on Tuesday but the game ended on a negative note with two late goals from the travelling side at Wembley.
Despite the late slip up Henderson, who captained the Three Lions on Tuesday, believes Southgate is the best option and insists the squad were all fighting for him.
Henderson said: "When you have asked all the players the question, they have all been very supportive of the manager.
"He has been brilliant to work with over this period of time. I think we have progressed in the short space of time he has been here, from the first game to this game, and that is definitely a good sign that we are going in the right direction.
"It is out of our hands now but the players have worked tremendously hard for the manager and hopefully in the end, he will get it and we can keep going in this direction.
"I think he will be a bit disappointed like we are [by the Spain game]. We are devastated because we put a lot of work into it."
Leave a comment