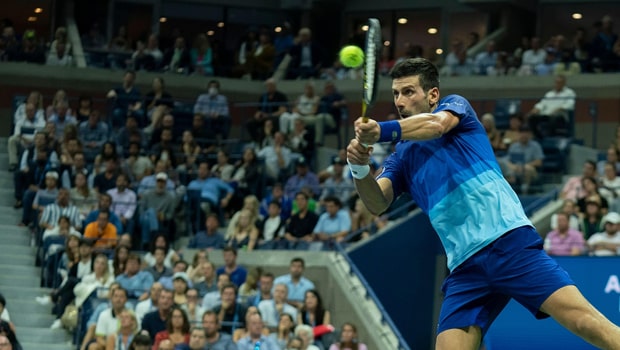 Novak Djokovic keeps on getting better with every game as he is rewriting the history books. The Serbian is known to bring his best in the big matches and against the top players of the Tennis world. Djokovic always loves the challenge and he is one of the few athletes in the sporting world who thrives when he is under pressure.
The World no.1 has secured his 12th US Open semifinal berth after he defeated Italy's Matteo Berrettini in four sets by 6-7 5-7, 6-2, 6-2, 6-3 in three hours and 30 minutes on Arthur Ashe Stadium.
This was Djokovic's 224 win against a top-10 ATP ranked player as he has now broken Roger Federer's elite record. The Swiss Maestro has registered 223 wins against the top-10 players of the world in his glorious career. Rafael Nadal has a 178-99 win-loss record against the top-10 players whereas Federer has 223-123, while Djokovic now has a 224-101 record.
In fact, Djokovic also holds his wood on Roger Federer and Rafael Nadal in head-to-head matches. The Serbian has a 30-28 record against Nadal whereas he has a 27-23 record against Federer. Thus, Djokovic has won 57 of his 224 matches versus the top-10 players against the two of his biggest rivals.
Djokovic will have a chance to make it 225 wins against top-10 players when he will face Alexander Zverev in the semifinal of the US Open. Zverev had beaten Djokovic in the semifinal of the Tokyo Olympics and the World no.1 will aim to take his revenge against the German.
Djokovic is also chasing Calendar slam and he will become the first player to achieve the illustrious milestone after Rod Laver did so back in 1969 if he goes to win the last two matches of the tournament.
Leave a comment