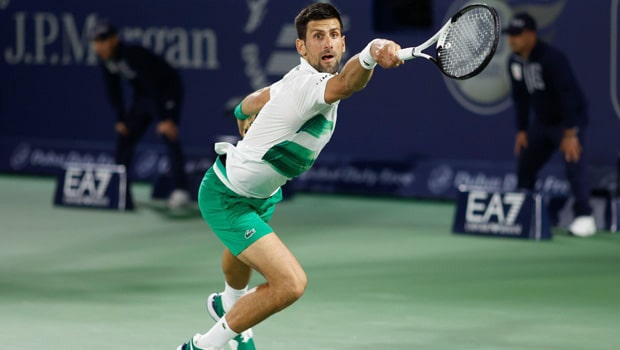 After a stellar season in 2021, one would not have believed someone who would have claimed that Novak Djokovic will win his first title of the season in mid-May. However, it came out to be true as the Serbian clinched his maiden title of 2022 by beating Stefanos Tsitsipas by 6-0, 7-6 (5) to win the Italian Open in Rome.
Djokovic, who could not play in the early stages of the season due to his vaccination issues, was seen at his best in Rome. This is Djokovic's sixth title in Rome and overall his 38th ATP 1000 Masters title, as he extended his lead against Rafael Nadal, who has 36 crowns.
Earlier in the week, Djokovic had become only the fifth player in the Open Era to complete 1000 Tour wins.
Meanwhile, Djokovic broke Tsitsipas' serve in the very first game as the Greek failed to even win a single point. It was a blueprint of what was to come as Djokovic dominated to bagel Tsitsipas in the first set. The second set went to the tiebreaker as Tsitsipas came up with a much-improved performance but Djokovic was not in a mood to play the deciding set.
In fact, World no.1 didn't even lose a single set en route to glory in Rome.
"I pleasantly surprised myself I can say. I had a clear game plan and I knew what to expect, so I knew what I had to do, but I did play a perfect first set," Djokovic said in his on-court interview. "After that, it was a little tighter. At this level, one or two points can turn a match and he was then back in the game at 4-1 up.
"The match could easily have gone to a third set but I managed to find the right shots at the right time to come back into the match. The tie-break I was maybe an inch better, but it was a tight, tight tie-break for both of us."
With the Italian Open title under his belt, Djokovic will be optimistic to defend his Roland Garros title.
"Two days ago I played great," Djokovic said. "I have been building my form for the past couple of weeks and I knew that my best shape on clay usually comes around Rome time, so it could not be better going into Roland Garros with a title."
On the other hand, Stefanos Tsitsipas admitted that Djokovic was too good for him in the final.
"He played really well. He started amazing," Tsitsipas said in his post-match press conference. "He played great tennis. Really closing the gap in most of the shots. Behind every single ball. Incredible handling of every single ball, not giving away any unforced errors."
The French Open will begin on May 22.
Leave a comment